NEWS & UPDATES
New staff, Be Green & Be Seen, research opportunities and more….
01 Aug 2023
I hope this email finds you and your whānau safe and well.
In true CP Society style, the team has been super busy – we've been topping up e-cards and processing the evidence of diagnosis documents that are being submitted, as well as hosting Mates @ Maccas and coffee groups, and keeping all our other programmes running.  
Here's an update of what's been going on, and some news and information that may be useful to you.
---
New staff
Last month we welcomed two new staff members to the Cerebral Palsy Society team! We're delighted to have Sophie Westacott and Emily Pavey on board.  
Sophie Westacott – Be Green & Be Seen – Events & Campaigns Specialist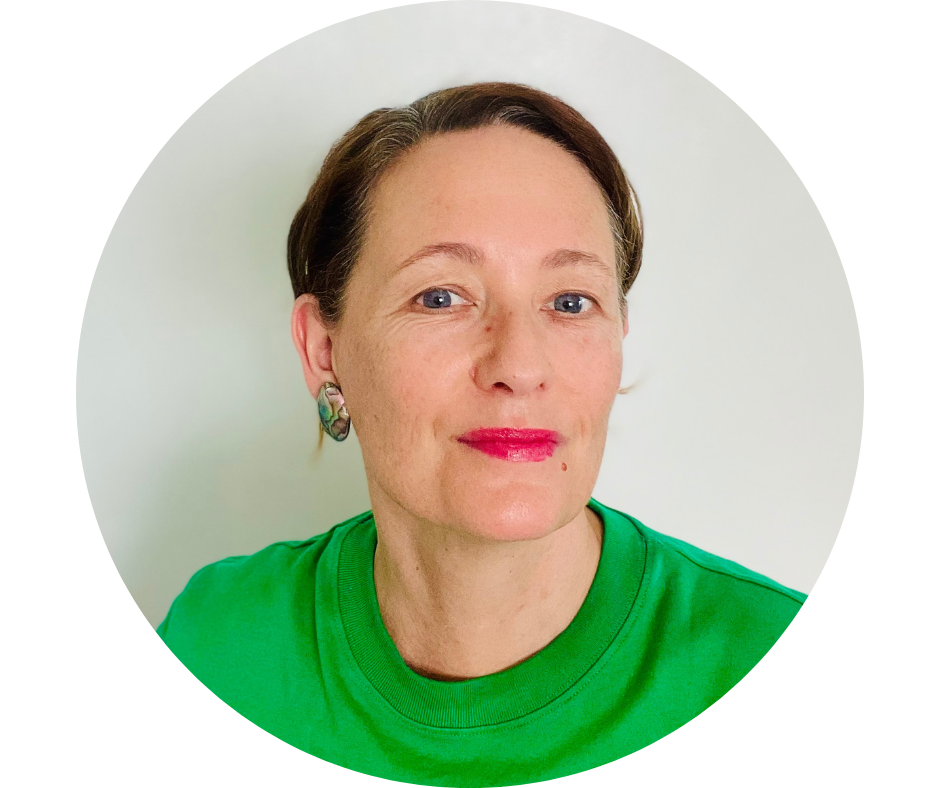 My whakapapa is Ngati Rangitāne o Tamaki nui-ā-Rua and Ngati Raukawa ki te Tonga  
My professional background is in special event fundraising with expertise in partnership cultivation, connecting creative ideas to an organisation, and engaging committed and loyal audiences, members, and donors.   
I have worked in campaign-driven development in California for Program For Torture Victims, Kidsave International, and California Science Center. In Aotearoa, I have worked in signature event fundraising at the Whanganui Cancer Society and as a capital campaign committee member for the Art Space in Kuaotunu, my hometown on the Coromandel Peninsula. 
My passion is positive social impact through innovation, the power of art, education, corporate social responsibility, volunteerism, community engagement, and philanthropy. 
Emily Pavey – Grants Specialist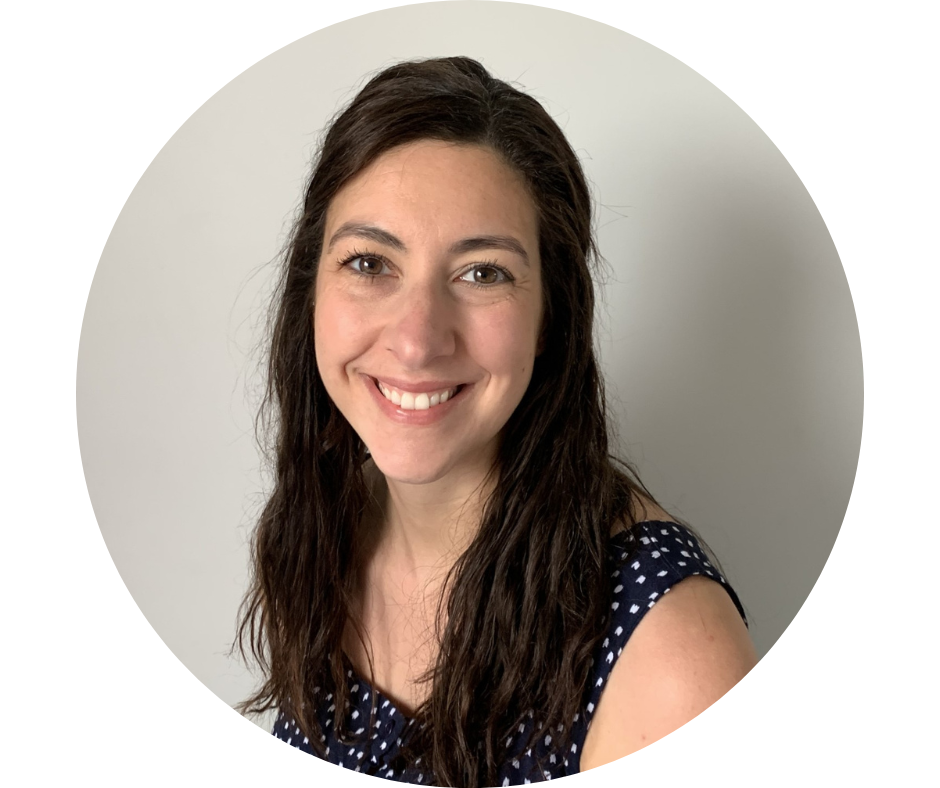 Originally from London, I moved to New Zealand 10 years ago (it was only meant to be for a year!) and was fortunate enough to continue with my career in fundraising which has spanned 13 years.  
My experience in the charity sector has encompassed many areas of fundraising, including corporate and major giving, but I'm excited to focus on trust and grant fundraising at the Cerebral Palsy Society as it's the area I focussed on when I first began working in the sector; it feels like I've come full circle.  
I've worked for a mix of causes, from Oxfam to Coastguard, from Blind Low Vision to Bellyful. My passion is for supporting charities in any way I can, using the skills I've picked up along the way.
Outside of work, I have two young children who keep life busy and fun, and we spend lots of time in the garden and at the beach. After 5 years in Auckland, we moved to Whitianga 5 years ago and really enjoy being part of a small, friendly community. I volunteer a little time with my local Bellyful branch (that I set up as a volunteer back in 2020), try and get to a yoga class each week, and love to read. 
---
Be Green & Be Seen
 2023
We're so excited! It might feel like October is a long way away, but our team is already in GREEN mode!  
Be Green & Be Seen is the Cerebral Palsy Society's annual fundraising and awareness campaign. It's held throughout the month of October to coincide with World Cerebral Palsy Day on October 6. We're going green for the month because green is the international colour for Cerebral Palsy.  
Earlier this month we held the photoshoot with the face of the 2023 Be Green & Be Seen campaign (we can't wait to introduce him to you!), and we're knee deep in planning.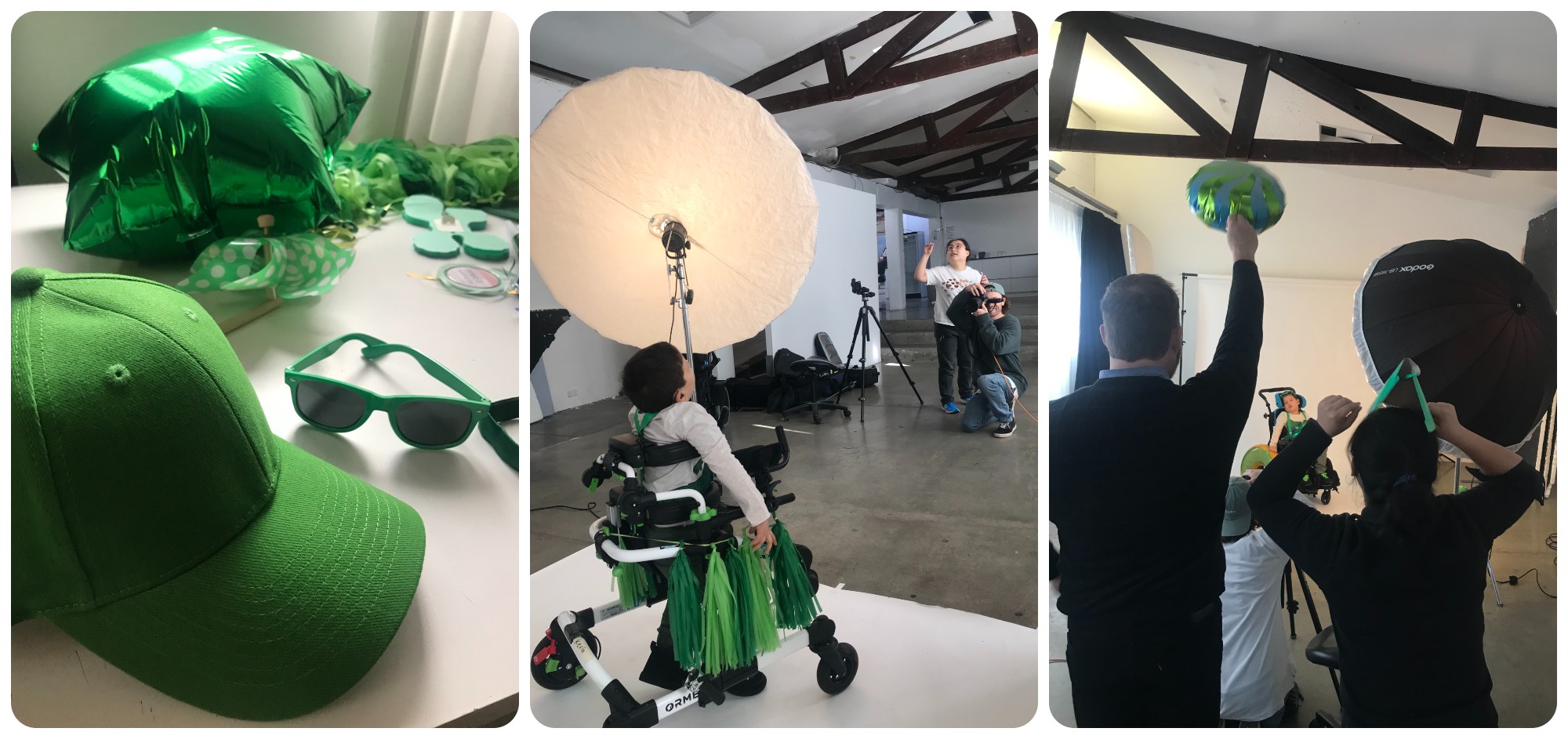 We need you!  
We had a FABULOUS green response from members last year! And this October we're looking forward to spotting even more of you going green. 
It's never too early to start thinking about how YOU can get involved and making sure you are green AND seen this October while helping to raise funds for the Cerebral Palsy Society. 
Get your workplace or your child's kindy or school involved, your clubs, your church, your friends, family and whānau……… 
Green dress up days, green morning teas, decorate your office or school with green spots, green drinks, green hair……. 
We look forward to spotting you!  
Business support 
We're always on the lookout for Be Green & Be Seen support from businesses – whether large or small.  
Everything from hosting a green morning tea, decorating your office green and donating, through to gifting prizes or being a sponsor or partner.  
If you want to find out about getting involved, then please get in touch. 
Sophie Westacott has joined our CP Society work-family and is solely focused on helping elevate Be Green & Be Seen and raising much needed direct service funds and awareness throughout the New Zealand.  
Sophie would love to hear from you and talk to you about the community you live in. Please text/call her on 022 183 2051 or send her an email to sophie@cpsociety.org.nz, if you or anyone in your whānau, family or network wants some ideas on how you can get involved. 
---
New Zealand Relay
Have you heard about New Zealand Relay? 

It's a free, government-funded service that enables people with hearing and speech impairments to use the phone. It provides services to people who are Deaf, deafblind, hard of hearing, and speech impaired. 
You can find more information on the New Zealand Relay Services website and the Ministry of Business, Innovation and Employment website.  
---
Research opportunities
Scientists seek children with CP for space-like anti-gravity walk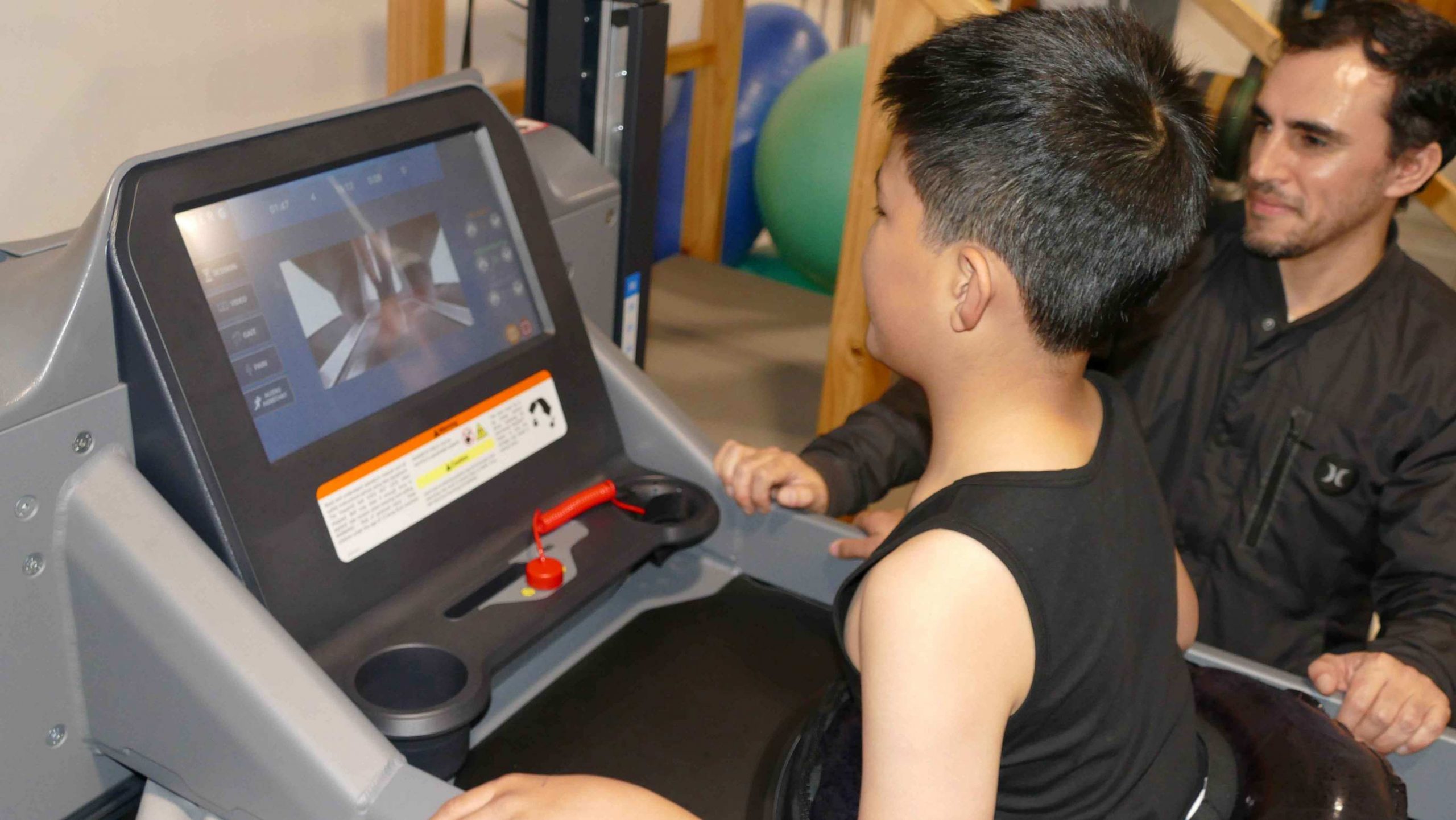 An anti-gravity study led by Dr Pablo Ortega-Auriol, Research Fellow at the Auckland Bioengineering Institute and Department of Exercise Sciences Waipapa Taumata Rau, University of Auckland, is hoping to reveal and promote new muscle coordination patterns which could increase the quality of life for children living with cerebral palsy. 
Pablo is recruiting children aged from eight to 15 years old with cerebral palsy (GMFCS I, II, or III) to take part. 
Does Physiotherapy intervention match whānau expectation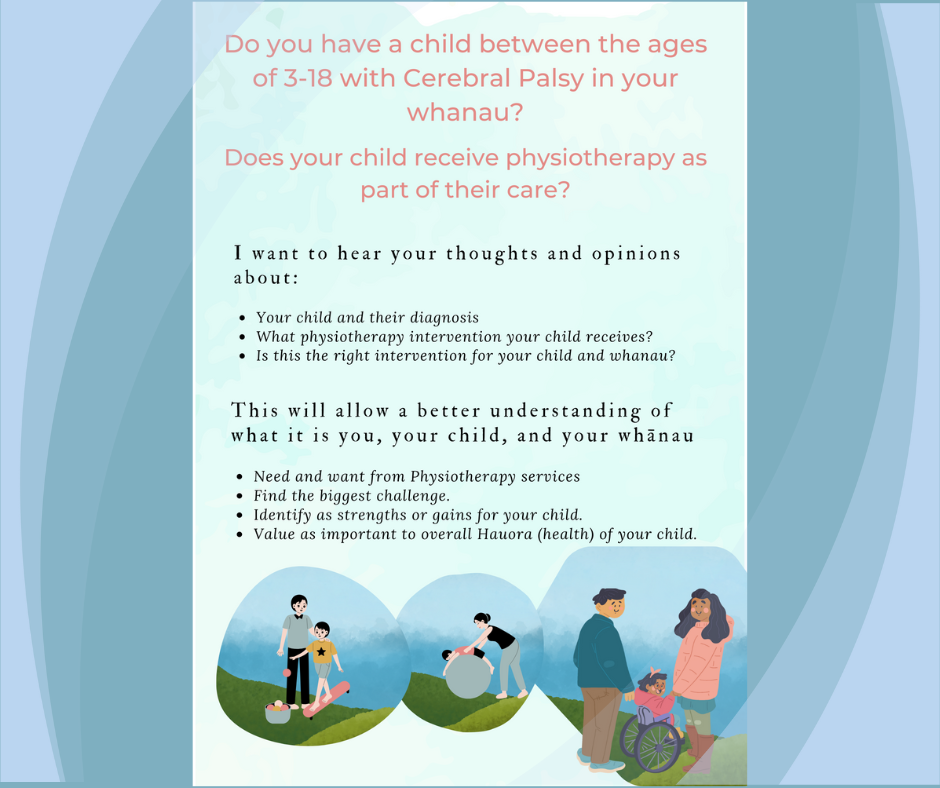 Primary Researcher Teresa Simonsen, a 4th year Physiotherapy Honours student studying at Te Pukenga Wintec, is looking to determine if physiotherapy intervention provided to children with a diagnosis of Cerebral Palsy (CP) matches the needs and expectations of their whānau who care for them.
Eligibility:
– Parent or primary caregiver of child with a diagnosis of CP 
– Aged between 3 and 18
– Living within Aotearoa New Zealand
– Receiving or has received Physiotherapy intervention.
Head over to the Research Opportunities page on our website for more information on both studies.  
---
Mates @ Maccas and Coffee Group
Mates @ Maccas and Coffee Groups are a great place for current financial members to meet new people, catch up with friends, and share stories. And best of all, the burgers, coffee and cake are on us!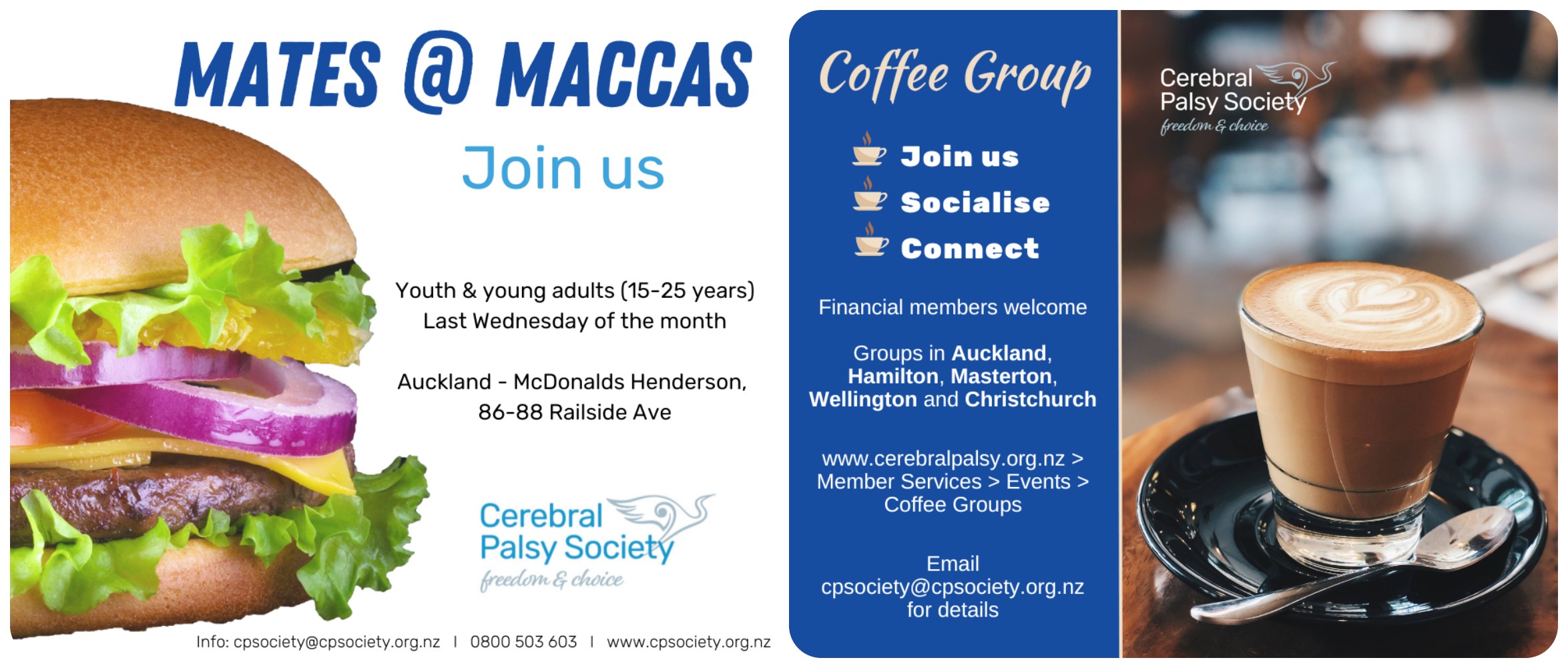 Mates @ Maccas is for members aged 15-25, and coffee group is for members aged over 25, and parents of children with CP.  
Be sure to put the dates in the diary and head along! We'd love you to join us.  
Mates @ Maccas:  
– Lincoln Rd Mc Donalds, Henderson – 4.30pm – 6pm, last Wednesday of the month 
Coffee Group:   
– Manukau, Auckland – 10.30am, third Tuesday of the month  
– St Lukes, Auckland – 10.30am, second Thursday of the month 
– Masterton – 2pm, second Saturday of the month 
– Wellington CBD – 1pm, second Wednesday of the month  
– Parklands, Christchurch – 1pm, first Tuesday of the month 
– Addington, Christchurch – 1.15pm, first Tuesday of the month   
Click here for more information, including venue details. 
---
Save the date for the next AGM 
Save the date – the Cerebral Palsy Society's Annual General Meeting is coming up on Sunday October 29, 2023 at 2pm.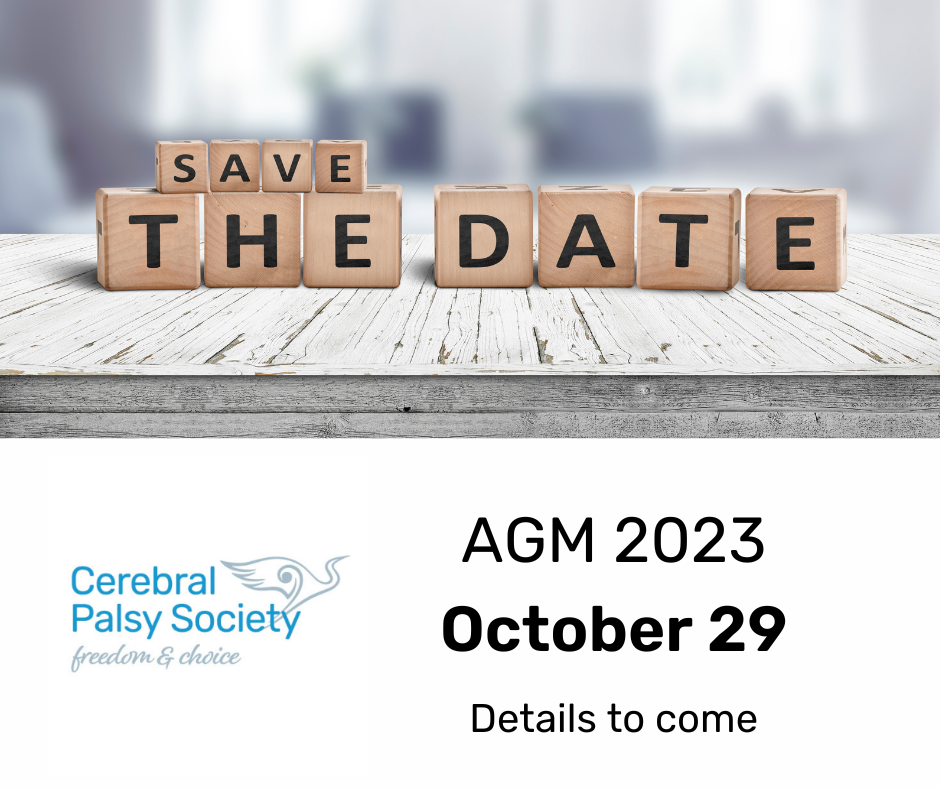 The AGM will be held virtually, and current financial members of the Society will be emailed or posted all the information they need to participate closer to the time.   
If your contact details need updating, please log on to the Dashboard on our website, email cpsociety@cpsociety.org.nz or phone 0800 503 603. 
---
Christchurch City Council's Accessibility Advisory Group
Christchurch City Council's Accessibility Advisory Group (AAG) meets monthly and aims to help Council staff promote inclusion as a core aspect of all services. 

The group provides a forum for people with disabilities to participate in the planning of these projects to ensure the needs of the wider disability community are taken into account. 
Council is currently looking for members of the Christchurch community to join the AAG, the commitment is two hours every month with the opportunity to contribute your expertise and insights to help improve accessibility in Christchurch's public spaces, services, and programs. 
Click here for more information.  
Find out more and complete the online application, contact staff at advisorygroups@ccc.govt.nz or call 03 941 8999. 
Applications close Monday 28 August 2023. 
---
Support Kiwis living with Cerebral Palsy 
As a supporter of the Cerebral Palsy Society of NZ, you will be helping Kiwis living with Cerebral Palsy maximise their potential.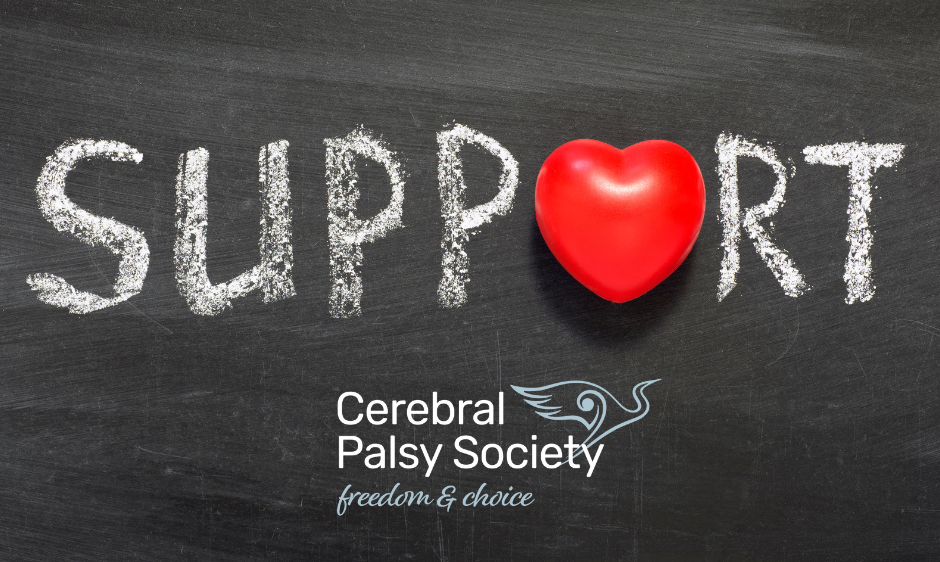 Perhaps you have a birthday coming up – you could ask family, whānau and friends to give in celebration, you could host a fundraising event at school or work, sign up as a monthly donor, or include a gift to the Society in your Will.  
Perhaps you know of a business that may be interested in learning more about partnering with the CP Society? Please put us in touch!  
Your gift will enable the Society to be there for people with Cerebral Palsy with whatever support they need. We couldn't do the work we do without our partners and supporters.   
For more information call 0800 503 603 or email cpsociety@cpsociety.org.nz.  
Learn more about supporting the Cerebral Palsy Society here. 
---
Participate in a marathon and fundraise for the CP Society 
We're looking for people to participate in marathons, fun runs, triathlons, or any similar type of event, and use it as an opportunity to raise funds for the Cerebral Palsy Society.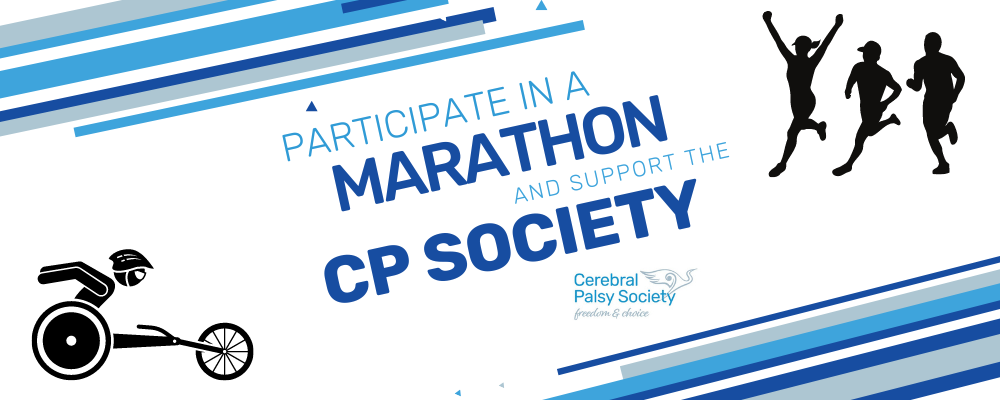 This will be a perfect way for some of our members, their family, whānau and friends to support the Society.  It's a great opportunity for first timers, and seasoned marathon participants.   
The Auckland Marathon is coming up on Sunday 29 October and we're looking for more participants to join our team! Simply head to our fundraising page and click 'Join Team' to set up your own fundraising page.
Because the Auckland Marathon is happening in October, you'll be raising money for Be Green & Be Seen, our annual fundraising and awareness campaign. We'd love for you to join us.   
Click here for more information, or feel free to get directly in touch with our team on 0800 503 603 or email cpsociety@cpsociety.org.nz 
---
Ngā mihi,   
Clare and the CP Society team