Our Board
Peter Fergusson President

I am a Northlander at heart – but based in Auckland these days. My wife (Mel) and I have two teenage children (Ashlea and Hamish) – Hamish is our close link to all things 'Cerebral Palsy'. I have been involved with the Cerebral Palsy Board since 2004 – helping steer it through a range of challenging times. 
I have also had the privilege of leading a number of organisations within the Franchise, Sporting and Disability sectors which has given me a breadth of commercial and not-for-profit experience. I am currently the CEO for the Northern Region of the YMCA. Beyond my business background I look to bring a communication style to the organisation that is open, inclusive and transparent – along with a healthy dose of resilience and humour.
Jake Mills Vice President


Jake Mills work on the Be. Employed programme for Be. Accessible has seen over one hundred access students from around New Zealand secure meaningful employment. Jake has been a mentor and panel judge for Social Innovation New Zealand and is has also a regular speaker for the Sir Peter Blake Trust Dream team, empowering school kids to follow their dreams and to dream big.
A former Sports Development Officer at Sport Taranaki Jake helped establish the strategic direction and developed regional sports opportunities for those living with a physical impairment. He led the first Wheelchair Basketball team from Taranaki to a national tournament in over 20 years and implemented the inaugural Para-cyclist team to compete in the around the mountain relay held annually in Taranaki.
Jake is delighted to be working alongside the Cerebral Society to support the growth of a dynamic and well-rounded organisation where all members can flourish.
Dave Thomas Sec/Treasurer


My 21-year-old daughter Chelsea has CP and is profoundly deaf, hence my interest in CP Sector and my involvement with the Society.
I have a financial services background and therefore have a keen interest and focus on the investment and management of the Society's assets to ensure we maintain our resources for the benefit of the current and future membership. My role as a member of the Board for the Society is one I enjoy as it has helped provide me with a wider perspective of the impact that CP has on the lives of our members and makes me passionate about working to provide the best outcomes we can for them.
I was a Board Member for the Kelston Deaf Education Centre for 14 years (7 or 8 as Chairperson) and have been self- employed in my own business as an Authorised Financial Adviser since 2001.
Harvey Brunt Board Member


I have been involved with the Society for the past 23 years as President, Secretary/Treasurer and most recently as the General Manager. I have a 29 year old daughter with CP living at home with us, my other 4 children having sallied forth.
I believe strongly in the Guiding Principles of the Society, especially those regarding 'respect' (we show respect and consideration for people), 'participation' (we assist our stakeholders to participate in Society)and 'innovation' (we lead our sector by being innovative). The Society's mission of 'enhancing the lives of people with CP,' has and continues to be my compass.
I will strive to help the Board stay focussed on the governance and the strategic direction of the Society and leave the operational team to implement that strategy. I believe that my presence on the Board will increase cohesion and efficiency, allowing more time for matters that are the Board's responsibility. Now that I am retired I have the time to commit to being on the Board. In my conversations with members at Boccia and other events, as well as living with someone with CP, I have a good knowledge of the challenges. My involvement with the sector over the last eight years has added to that.
Bruce Bycroft Board Member


I live rurally near Palmerston North and work as a Health and Safety Coordinator at Plant and Food Research. My son Rhys and a number of my friends live with CP or other disabilities, and they inspire me to make a difference, as they do themselves.
I absolutely endorse the purpose and activities of the Society, in particular the programmes and grants aimed at supporting and empowering members to live creative and meaningful lives in their communities.
As a Board member, I use many of the 'people skills' that I apply in my Health and Safety role, to ensure that the Board is connected with its members and that Board decisions provide the best possible outcomes within the inevitable financial constraints of the CP Society.
Michelle Hamilton Board Member


Hi, I'm Michelle and I've recently had the great pleasure of being co-opted to the board of the Cerebral Palsy Society.
I live on Auckland's north shore with my husband (Nick) and two boys (Thomas aged 9 and Lachlan aged 4), we are excited to be adding to our family in a couple of weeks when we bring home our new Airedale terrier puppy (Tilly). The family keep me pretty busy during the weekends, fitting in time to go to the gym (I have CP so keeping active is a must) and time with friends in around sporting commitments in a house full of football fanatics can be a challenge.
During the week I work as the Chief People Officer at NZME, home of the NZ Herald, Newstalk ZB, Radio Sport and music radio brands like The Hits, ZM, Coast, Flava and my personal favourite radio Hauraki. My role with NZME is remarkable in that no two days are ever the same and I definitely don't need to get better work stories with around 2000 highly creative people all across NZ to work with.
I look forward to meeting and getting to know other members over the coming months.
Merryn Straker  Board Member


I'm a Mum to three boys with our middle son Oscar a 10-year-old with Ataxic CP and with my husband Grant, we live in Whangaparaoa.
I'm passionate about neuroplasticity and how it applies to our CP kids. We have travelled twice now to the US with Oscar for two short intensives 12 months apart and we see real gains. It highlights the gaps we have for our kids here.
We need a strong and targeted advocacy function to lobby for therapy options for our school-aged CP kids. We need to support our SDR families who fundraise to huge lengths to get a better outcome for their kids and the least we can do is provide intensive PT when they get home funded through our own health system. Advocacy at governmental and ministry levels for change is necessary. Our CP kids deserve options – full-time meaningful employment and contributing taxpayers not drawing welfare to support them. Put the time in young and get them to be all that they can be.
I am the Chief Production Officer at Straker Translations, a company founded with my husband Grant. I have board and management experience and run a team of 85 across 7 different countries.
I truly believe that our kids are worth more than leaving their future to chance and I'm prepared to work incredibly hard to advocate to see that change.
Sally Thomas Board Member


I am the parent of four lovely men, one of whom has Cerebral Palsy – Alex is 29 years old. He has received amazing practical support from the Society over the years – it is great to see an organisation that operates for the benefit of its members.
A little about me. I have worked in the disability sector for over 20 years in a number of roles. Firstly as Manager of the early intervention programme at Conductive Education Canterbury; Project Manager for "our stories" a joint IHC/CCS Disability Action community awareness project; a development role with Lead School Transition service supporting adults with disabilities leaving school; Service Coordinator at CCS Disability Action in adult services and very recently National Coordinator for NZ Foundation for Conductive Education. I have represented the CP Society on the Ministry of Health Disability Consumer Consortium for four years (retiring last year); have been on the Local Advisory Group of Enabling Good Lives for three years (retired last week!) and at the same time retired as a Board of Trustees member from Ferndale Special School. This has freed up some time to invest in the CP Society and my other passion – Arts Integrated – a performing arts programme for people with disabilities in Christchurch.
I feel really lucky to have been involved in such a cross section of disability and hope that these experiences will benefit the Board by providing a really good overview of the needs and issues for young families with babies right through to adults.
I am looking forward to meeting other Board members and making a difference in the lives of New Zealanders with CP!
Michael Turner Board Member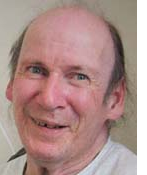 Hi, my name is Michael Turner, I was born in Westport on the West coast and I have Cerebral Palsy. We shifted to Christchurch when I was 17 as there was nothing for me over there. I have done a couple of years working at the sheltered workshop but I got bored with the work there, so was given a job at EMI packing records which I enjoyed until it closed. Later on in life, I got a job at Burwood Hospital which I enjoy. With my charm and sense of humour, I have done a great job.
When I joined the CP Society there was nothing much happening in the South Island so I helped put together a Xmas function in Christchurch for CP and was voted on to the CP Board so I can push for South Islander. I enjoy playing Boccia and co-hosting a CP Coffee group.
Anthony Smith (co-opt)


Hello my name is Anthony Smith, I have a 22 year old daughter whom has CP. This has meant that I have become involved in a range of disability and service provider issues and supports over the years. This includes Conductive Education early childhood and school aged programs and lobbying at a central government level for young people with CP within the education sector. 
I have also had many years of dealing with ACC and other government agencies. I enjoy seeing those affected by CP making choices for themselves and taking charge of their own lives. I have a range of business interest and enjoy farming and getting out on the road on my motorbike or going off road by bike or 4 wheel driving.