Membership
The Cerebral Palsy Society of New Zealand Incs purpose is to enhance the lives and well-being of people with Cerebral Palsy.
Cost
Membership is just $10 a year (individual) or $15 a year (family membership).
What You Get
Three issues of the Society's publication The Review annually to keep you up-to-date with the latest news.
Members with Cerebral Palsy are eligible to apply for grants funded by the Society. The applications for grants are considered on a monthly basis by the Grants Committee.
Members with Cerebral Palsy are eligible to participate in any of the programmes that the Society runs (e.g. getOutThere, getThis&That, getOnYourTrike, getStructured, etc)
Subsidised entry to all social & sporting functions run by the Society
Our freephone service (0800 503 603) is open Monday to Friday from 9am to 5pm, for information, advice and support on all aspects of Cerebral Palsy
How to Become a Member & Payment Options
If you would like to become a member of the Cerebral Palsy Society you can complete the online application HERE or please DOWNLOAD the Membership Application Form. Fill the form in and post it, along with the payment, to: 
Cerebral Palsy Society of New Zealand
DX Box CP 31005
Newmarket
Auckland
New Zealand
Pay online with a credit card through the membership dashboard on this website, once you have logged in. (For new members, you can also pay with credit card as well but you will have to register first to get to the membership payment part of the dashboard.)
Pay by direct credit to the Society's account 12-3011-0809757-00. In the particulars please put the first and last name of the person with Cerebral Palsy.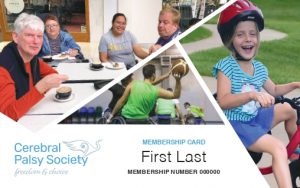 NOTES:
All new Membership Applicants must be approved by the CP Society board. The applicants will be advised of the outcome of their membership application following the next monthly Board meeting.
You may join for up to four years in advance by paying the yearly amount multiplying by the number of years you have chosen.
Memberships run until the end of June, however new membership approvals in April-June run through to the end of the following June.
How to renew your Membership
CLICK HERE to download the Membership Renewal Application Form below.
Fill it in and email it to cpsociety@cpsociety.org.nz or post it to:
Cerebral Palsy Society of New Zealand
DX Box CP 31005 
Newmarket 
Auckland 
New Zealand
The Society's Constitution
By joining the Cerebral Palsy Society you agree to be bound by the Society's Constitution. CLICK HERE to read/download a copy of the Constitution.
Privacy Policy
The Cerebral Palsy Society Privacy Policy. CLICK HERE