Workshops, Expos, Opportunities & More
Workshops, meetings and expos etc, held by the Cerebral Palsy Society, as well as disability organisations, charities and community groups around the country.
* Please note – due to Covid-19, events are subject to change. The Cerebral Palsy Society has no control over whether the the external events listed below go ahead or not.
Disability law workshop and the getStructured programme
Planning For Adulthood – The Legal Framework Around Disability And Disability Rights
Wednesday May 25 and Thursday May 26, 7pm-8.30pm
Please join the Cerebral Palsy Society for two consecutive evenings to learn about disability and the law.
Our guest speaker is Nan Jensen, (Barrister and Solicitor) from QuinLaw. 
The workshop will be helpful for anyone who has a disability or has a family member who has a disability. You are very welcome to bring your support workers and whānau to this very informative workshop. There will also be plenty of opportunity to ask general law questions.
The CP Society has a programme called getStructured, that may assist financial members with CP by providing up to $1,500 to set up a legal framework for them or their family.
Topics To be Covered:
Convention on rights of persons with disabilities
Guardianship
Protection of Personal and Property Rights (PPPR) Act – Welfare Guardians/Property Administrator/Manager
Enduring Powers Of Attorney (EPAs)
Wills
Family Trusts
Privacy Issues (health information)
Please note: the evening will run over two consecutive nights. Please join us if you can commit to attending both evenings, as the information is linked.
RSVP
To join the virtual workshop, please RSVP to sara@cpsociety.org.nz by Tuesday, May 24.
Sara will send you the links to both nights and after the second night will send workshop notes, and information about getStructured.  
Alternatively – the links are here:  
Wednesday, May 25 
Thursday, May 26
RSVP HERE
Auckland Disability Law's Legal Education Zoom Sessions
These introductory Zoom sessions are designed for Disabled and Deaf People and supporters.  These sessions aim to significantly unpack the law around disability discrimination, disability disclosure when job seeking, cyber bullying, reasonable accommodations at work, plus the legal documents about decision making.
---
Reasonable Accommodations and the Law
Thursday 26 May 2022, 11am-12 noon
What are reasonable accommodations at work.
Asking for the accommodations you need to do the job. 
Register by 12 May 2022
---
Decision Making and the Law: EPAs, Welfare Guardianships and Property Managers
Tuesday 21 June 2022, 11am-12 noon
Getting people you trust to support your decision making.
What happens if you can't make all of your own decisions.
Register by 7 June 2022
---
To register, provide your name, email address, contact phone number, where you live, date and name of the session(s) you want to attend. 
Please email info@adl.org.nz, or text 027 457 5140, or call 09 257 5140 and leave a message. 
More information
Fishing trip for men
Calling dads, grandads, and male caregivers of children with physical disabilities.
Wilson Home Trust is hosting a fishing trip and there are a few spaces left, so get in quick!
When: Sunday, 29 May, 2022 at 8am
Where: Ti Point, Rodney, north of Auckland
Cost: $40 – Includes fishing rod, bait, snacks and sausage sizzle.
To register interest, for more info, or to enquire about accommodation options, contact Felicity on 09 485 3461 / 0800 948 787 or email
FelicityH@wilsonhometrust.org.nz
.
More info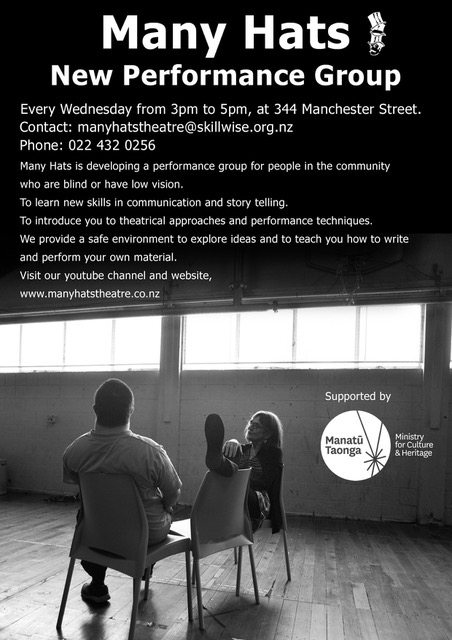 Central Christchurch – Drama Group for adults in the community with a physical disability
Many Hats Theatre Co is part of Skillwise in Central Christchurch. It provides inclusive drama groups that create a performance environment to vulnerable adults, and adults with disabilities, who may never have had the opportunity to access and explore theatre as a way to express themselves and tell their stories.
The group is fully funded by The Ministry for Culture and Heritage so all you need to bring is some enthusiasm and the willingness to have a go.
Mondays 3pm-5pm – Drama Group for adults in the community with a physical disability
Venue: Many Hats Theatre – 344 Manchester St, Christchurch Central (part of SkillWise). 
Use the drive to the left of the building (Bealey Ave end) and the entrance is via a corridor at the rear of the building. Please be in touch if you have any questions
 
Email: manyhatstheatre@skillwise.org.nz
Mobile : 0224320256
 
If you wish to join the class please complete an online registration here or register at the class.
More info
Mindfulness and Self Compassion
For parents, grandparents and caregivers of children and young adults with physical disabilities.
Hosted by Wilson Home Trust. 
Sue Dykes will explore ways to center and calm yourself, moving out of stress mode, right in the middle of the hardest situations. These techniques will help to open the door to being kinder to yourself and free up some energy for you and the others in your life. 
Mindfulness sessions are being offered as follows:
North Shore – The Wilson Home Trust Meeting Room
When: Monday 30 May 2022
Time: Morning – 10.30am – 12 noon or Evening – 7pm – 8.30pm
South Auckland – Nathan Homestead
When: Tuesday 7 June 2022
Time:  Morning – 10.30am – 12 noon or Evening – 7pm – 8.30pm
Cost per session: $5.00
If you would like to register or for more information please contact Felicity at FelicityH@wilsonhometrust.org.nz or call 09 485 3461 / 0800 948 787.
More info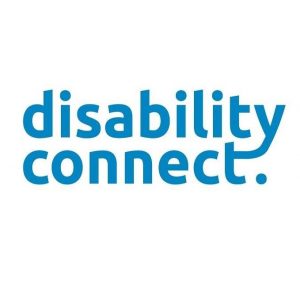 Education Legal Issues
An online presentation suitable for Special Needs parents hosted by Nan Jensen, Barrister and Solicitor from QuinLaw.
It includes information on:
Special Education
School rules and discipline
Is it legal? What can the school expect?
Is it reasonable? What can you expect?
A list of relevant resources
June 13 2022 12-2pm
August 1 2022 12-2pm
Cost: Per Family – $20, Professionals – $50 (working in disability sector)
RSVP is essential: 09 636 0351 or admin@disabilityconnect.org.nz
MORE INFORMATION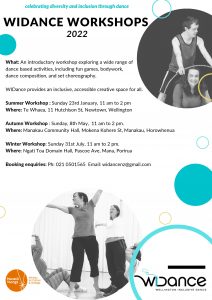 WIDance Workshops 2022
Wellington Inclusive Dance provides an inclusive, accessible creative space for all.

An introductory workshop exploring a wide range of dance based activities, including fun games, bodywork, dance composition, and set choreography.
Funded by Manatu Taonga, Ministry for Culture and Heritage.
Porirua – July 31
For booking enquiries
Phone: 021 0501565
Email: widancenz@gmail.com
WIDance on Facebook
Show Your Ability Expo
New Zealand's premier annual disability equipment show  
August 8 – Auckland – Eventfinda Stadium – North Shore
August 10 – Hamilton – Claudelands Events Centre 
August 18 – Palmerston North – Central Energy Trust Arena 
October 17 – Christchurch – Pioneer Recreation And Sport Centre
October 18 – Dunedin – Edgar Stadium 
MORE INFORMATION
Transition Expo
September 7, 9am – 2pm at the Auckland Netball Centre, 7 Allison Ferguson Drive, St Johns, Auckland. 
All students with a disability and those involved in the disability sector will enjoy this day.
Interactive Activities
Live Forum – "Preparing for life after school"
Opportunities and advice from Transition, Vocational, Employment, Education, Recreation and Information providers
Social Enterprise Resources
Chill Zone – quiet sensory space
Competition with prizes
Café on Site
Free Parking
Wheelchair accessible
Contact Details:
w: www.disabilityconnect.org.nz/annual-transition-expo
e: admin@disabilityconnect.org.nz
p: 09 6360351
fb: ParentandFamilyResourceCentre
Halberg Games
regional events
Halberg Games
regional events are coming in October 2022!
The
Halberg Foundation
is running a series of regional, two-day sports festivals in Canterbury, Auckland and Palmerston North this October.
Athletes will represent their region at their local event, which will include; sports, opening and closing events, festival activities and more!
Halberg Games South
Location: Rangi Ruru Girls' School, Christchurch
Athletes representing: Tasman, Canterbury, South Canterbury, Otago, Southland, West Coast.
Location: King's College, Auckland
Athletes representing: Northland, Auckland, Waikato, Bay of Plenty, Gisborne.
Halberg Games Central
Location: Palmerston North Boys' High School
Athletes representing: Taranaki, Manawatu, Hawkes Bay, Wellington
More details
Outward Bound NZ – Leaps & Bounds Activate
October 10-17, 2022
An 8-day course for teens aged 13-16 years with a physical disability, and their parent or caregiver.
The maximum group of six pairs will learn about themselves and each other in a supportive environment. You and your teen will develop trust and respect and a more meaningful relationship. Experience working in partnership as part of a wider team.
You'll take on eight days of outdoor adventure together, spending your time at the school in Anakiwa, and out amongst the bush, mountains and waterways of the Marlborough Sounds. Activities can include camping, sea journeys, water challenges, and height activities.
Not only will you be working with each other, you'll team up alongside up to five other caregiver & teen duos and three expert instructors, all bringing their own mix of stories and personalities!
For more information contact:
Leonie King – Disability Course Partner
lking@outwardbound.co.nz
(04) 282 1090 or 0800 688 927
MORE INFORMATION
Join Our Online Community
It's an important time to be connected. Connecting with your community is an incredibly powerful way to beat isolation at this time.
Join our online community today where you can speak with CPS staff, and other families around New Zealand who either have, or know someone living with Cerebral Palsy.
Visit our Facebook
Request A Call From Our Team
We're here to help. If you're feeling isolated or need support, our team is available to talk. Sometimes, having someone to chat with can make a huge difference during this time of isolation.
Why not request a call or email from the team today?
Request a call