NEWS & UPDATES
News from the Cerebral Palsy Society…….there's plenty happening
29 Aug 2023
Kia ora,
Aren't the lighter evenings and spring flowers a welcome sight after winter? The days are still cool, but it's all a sign that spring is coming.
Here at the CP Society, we are entering one of our busiest periods – we're days away from launching our annual fundraising and awareness campaign Be Green & Be Seen (and there's an exciting new addition we can't wait to share with you!) and we're getting ready to send you everything you need to know ahead of this year's AGM.
---
Be Green & Be Seen

2023

Be Green & Be Seen is just around the corner. And like last year, we'll be asking for your green support for the month of October.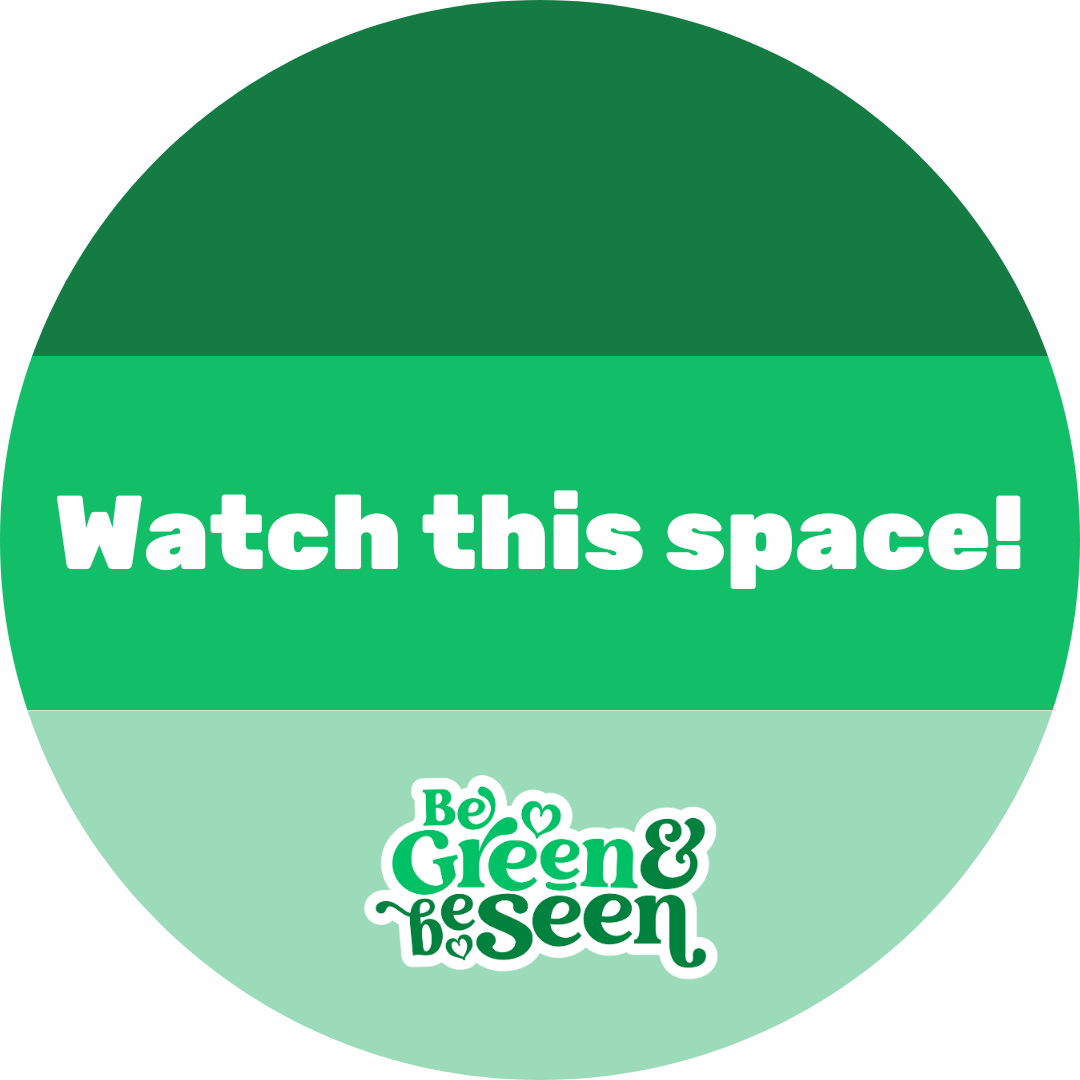 When the campaign is live in a few more days, we'll be calling on you to spread the word! Be sure to share our emails and our social media posts, and encourage your schools and workplaces to get involved and donate.
The more money we can raise for our getProgramme funding, and the more awareness we can raise about Cerebral Palsy, the better. It all comes back to enhancing the lives of people with Cerebral Palsy in New Zealand
More will be revealed shortly.
---
Save the date for our AGM 
The Cerebral Palsy Society's Annual General Meeting is coming up on Sunday October 29, 2023 at 2pm.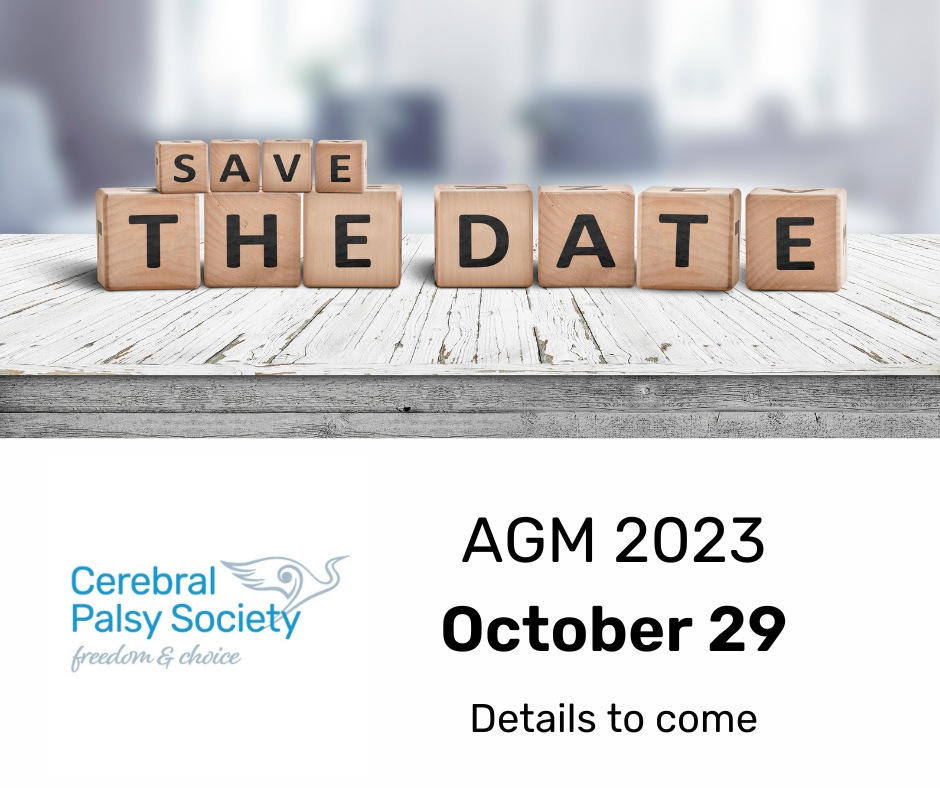 The AGM will be held virtually, and current financial members of the Society will be emailed or posted all the information they need to participate closer to the time.  
If your contact details need updating, please log on to the Dashboard on our website, email cpsociety@cpsociety.org.nz or phone 0800 503 603.
---
Children's Fun Day
Here's something for the younger members of the Cerebral Palsy Society, and their families!
We're really excited to be piloting our first Children's Fun Day in Auckland these school holidays.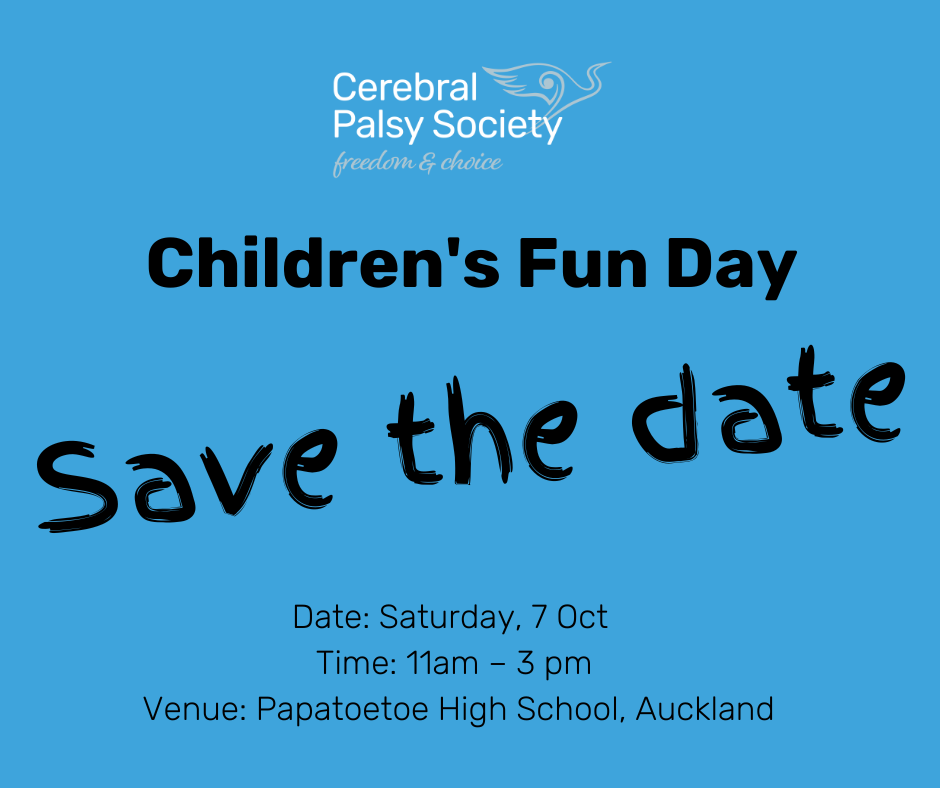 We're just finalising the finer details, but here's what you need to know:
Date: Saturday, 7 Oct
Time: 11am – 3 pm
Venue: Papatoetoe High School, 19 Nicholson Ave, Papatoetoe, Auckland. 
There will be plenty of food and fun activities. Keep an eye out for the rest of the info.
---
Mates @ Maccas and Coffee Group
Have you joined us at Mates @ Maccas in Auckland, or at one of our Coffee Groups around the country?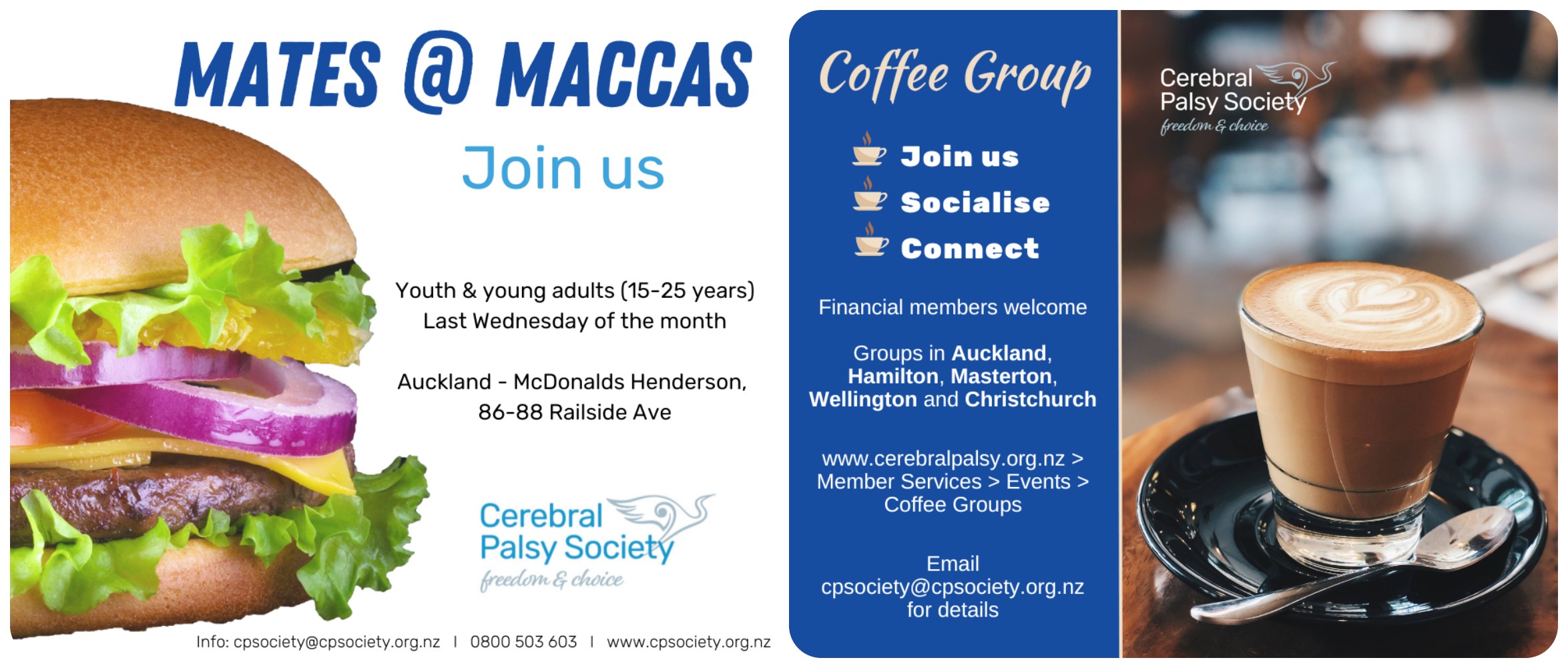 They are a great place for current financial members to meet new people, catch up with friends, and share stories. And best of all, the burgers, coffee and cake are on us! 
Mates @ Maccas is for members aged 15-25. Coffee group is for members aged over 25, and parents of children with CP. 
Be sure to put the dates in the diary and head along! We'd love you to join us. 
Mates @ Maccas:  
– Lincoln Rd McDonald's, Henderson – 4.30pm – 6pm, last Wednesday of the month
Coffee Group:   
– Manukau, Auckland – 10.30am, third Tuesday of the month 
– St Lukes, Auckland – 10.30am, second Thursday of the month
– Hamilton – this group is on hold due to low numbers attending
– Masterton – 2pm, second Saturday of the month
– Wellington CBD – 1pm, second Wednesday of the month 
– Parklands, Christchurch – 1pm, first Tuesday of the month
– Addington, Christchurch – 1.15pm, first Tuesday of the month  
Click here for more information, including venue details.
---
Participate in a marathon and fundraise for the CP Society 
We're looking for people to participate in marathons, fun runs, triathlons, or any similar type of event, and use it as an opportunity to raise funds for the Cerebral Palsy Society.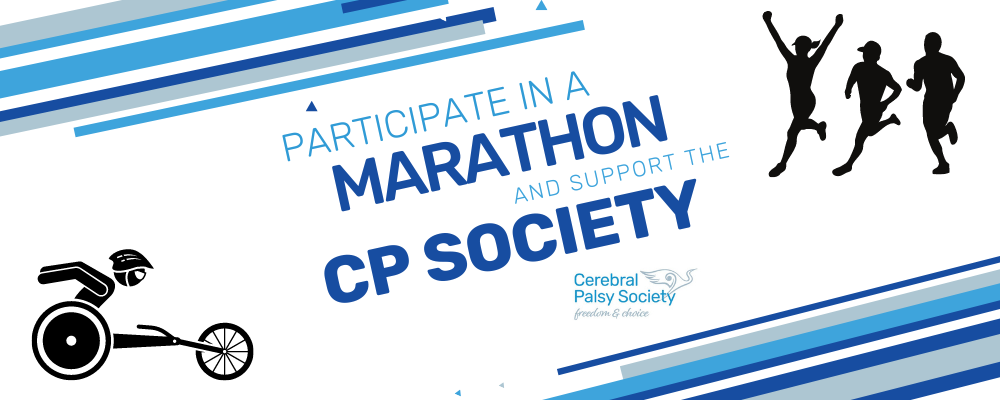 This will be a perfect way for some of our members, their family, whānau and friends to support the Society. It's a great opportunity for first timers, and seasoned marathon participants.  
The Auckland Marathon is coming up on Sunday 29 October and we're looking for more participants to join our team! Simply head to our fundraising page and click 'Join Team' to set up your own fundraising page.
Because the Auckland Marathon is happening in October, you'll be raising money for Be Green & Be Seen, our annual fundraising and awareness campaign. We'd love for you to join us.  
Click here for more information, or feel free to get directly in touch with our team on 0800 503 603 or email cpsociety@cpsociety.org.nz
---
Research opportunities
There are plenty of research projects to contribute to and you can read about some of them on the Research Opportunities page of our website.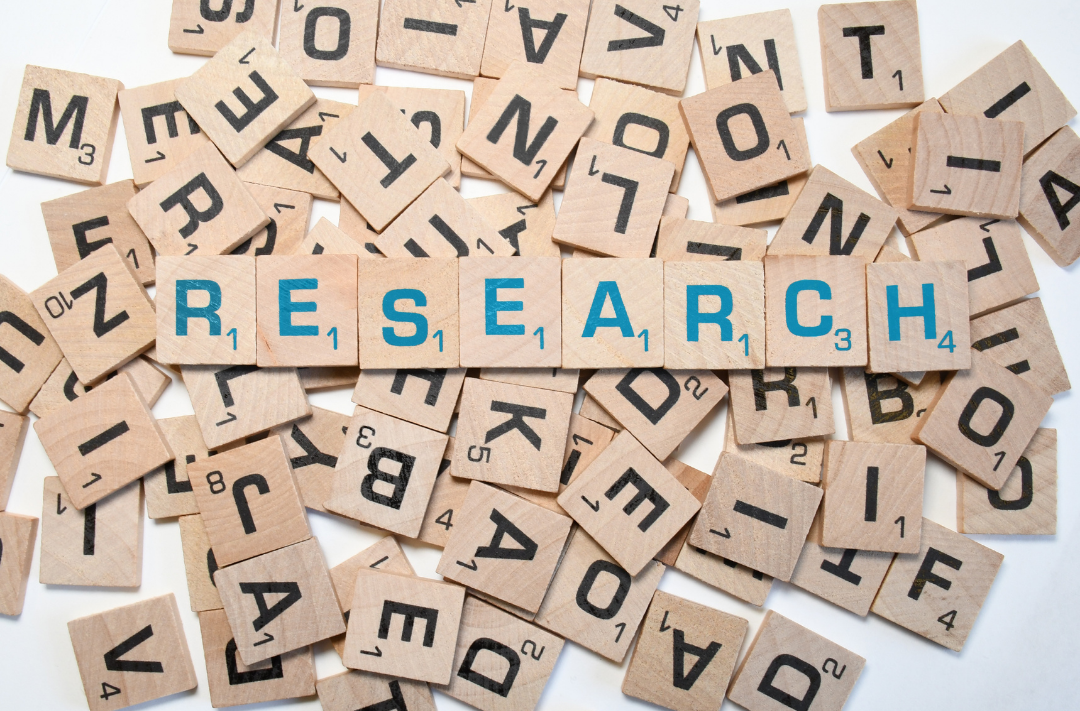 Current projects:
– Does Physiotherapy intervention match whānau expectation
– Scientists seek children with Cerebral Palsy for space-like anti-gravity walk
– Experiences of young people with disabilities and their families/caregivers on supported family centred care and play in therapy
– Parental Understandings of Sleep Problems in Children with Long-Term Health Conditions
– Eat, Sleep, Play – CP
– Sibling Research
– Helping kids with Cerebral Palsy to be more physically active
---
Interact Festival 2023
Participants are being sought for the 2023 Interact Festival.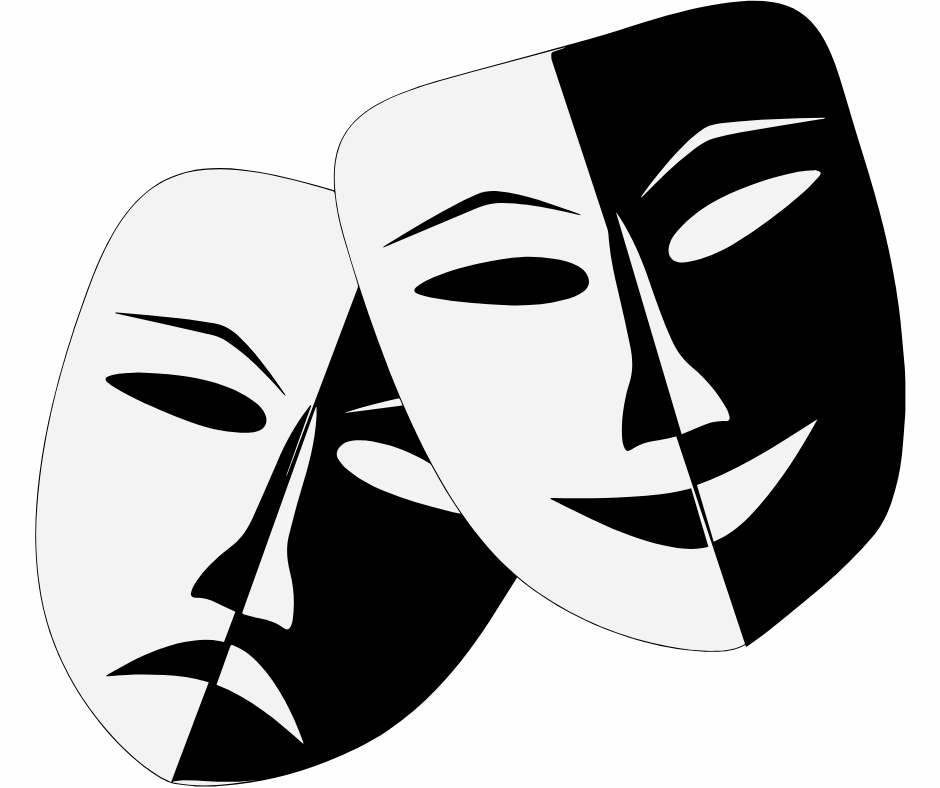 It's being held from November 1-3 at Corban Estate Arts Centre, Henderson, Auckland, and is open to all people with, and associated with, disabilities.
There is an opportunity to showcase abilities, skills and talent whether it be dance, skit, mime, kapa haka, poetry, drama, a musical item or art. People can also participate in arts and craft, performance workshops, and the wearable arts parade.
For more information email Sabrina interactfest@gmail.com or phone 021 188 9460, or fill out this expression of interest form https://forms.gle/P792fuxg7VXeSNmj6
---
Outward Bound scholarships
Is it time for a new challenge?
The Outward Bound Trust of New Zealand is offering 3 x full-fee scholarships for its 8-day Activate course, to people with a physical disability, aged 18+. The course runs from Nov 17 – 24, 2023 in the Marlborough Sounds.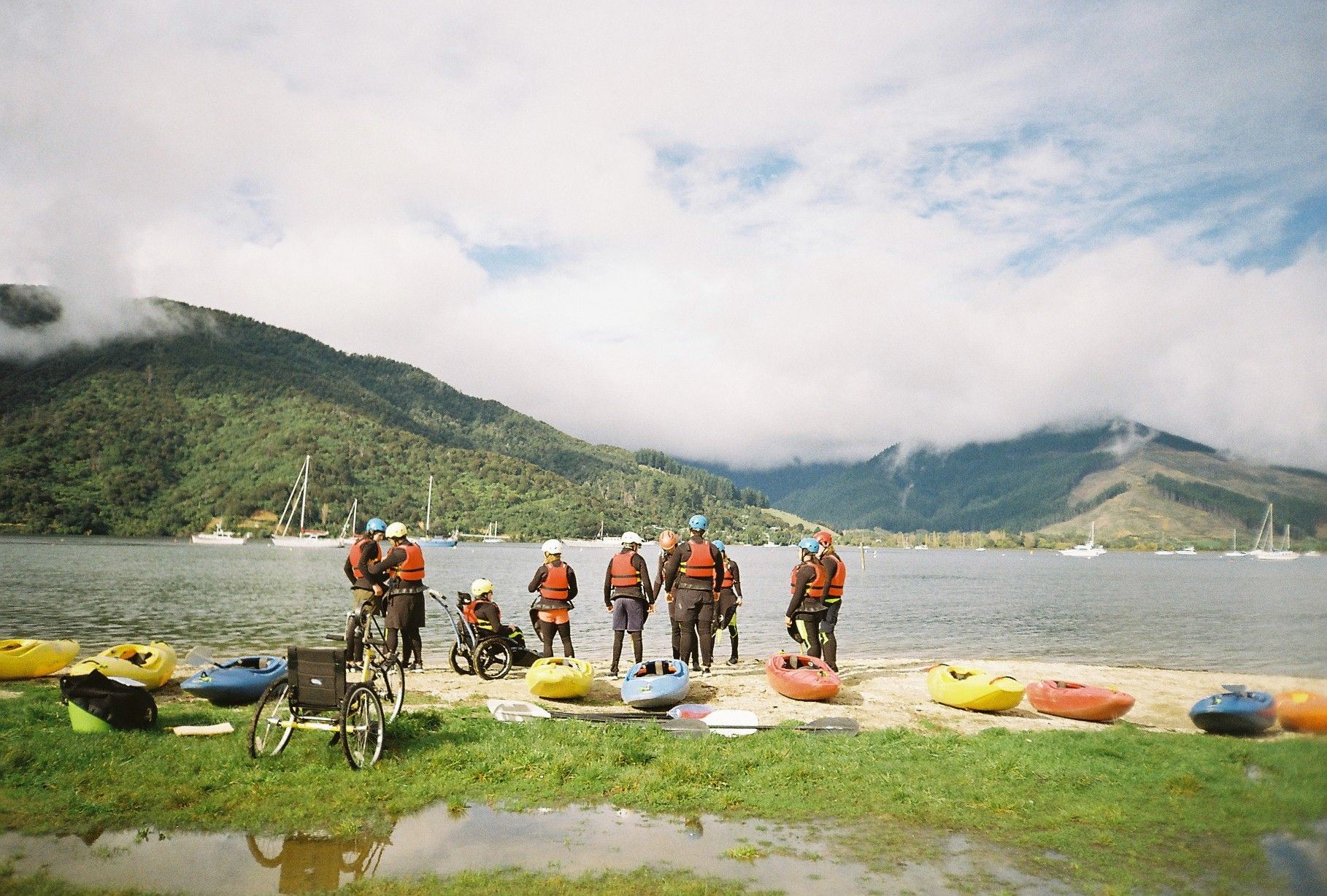 It features adventure-based activities including sailing, waka ama, high ropes, camping, team building, and physical training, alongside facilitated sessions on values and interpersonal skills.
Expect to be challenged physically and mentally, have fun, and build long-lasting friendships.
For course info go to www.outwardbound.co.nz/activate 
For scholarship info email adapted@outwardbound.co.nz or phone 0800 688 927.
---
Halberg Outdoor Recreation Camp
Are you a 17-21 year old with a physical or visual impairment looking to challenge yourself?
Then the Halberg Outdoor Recreation Camp could be for you.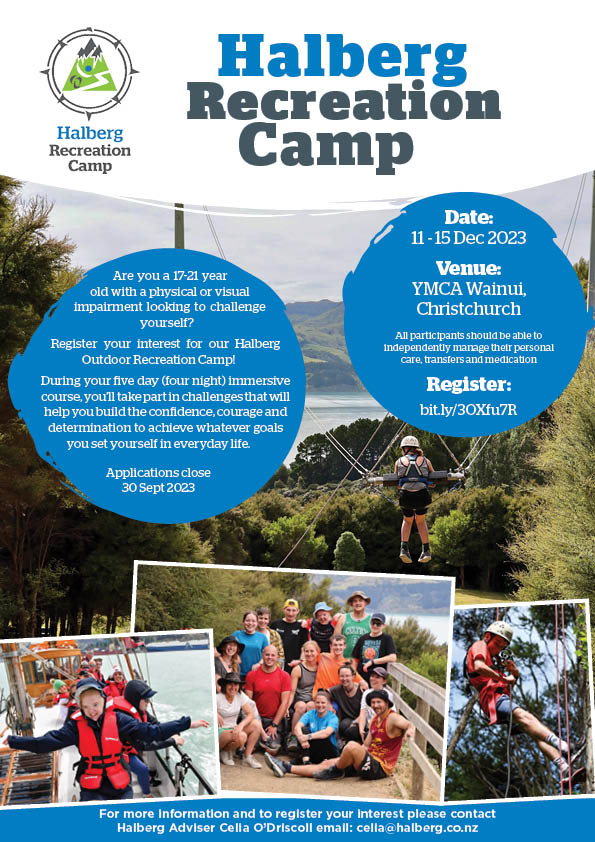 During a five-day immersive course, participants will take part in challenges that will help build confidence, courage and determination to achieve whatever goals they set in everyday life.
When: December 11-15, 2023
Where: YMCA Wainui, Christchurch
To register your interest contact Celia at celia@halberg.co.nz
---
That's about it for now – we'll update you with more information in the coming days and weeks.
It's a busy period and we're looking forward to it! We hope you are too!
Ngā mihi,  
Clare and the CP Society team
Clare Williams
General Manager