NEWS & UPDATES
What a month it's been for the Cerebral Palsy Society
03 Nov 2021
Kia ora koutou katoa to all our members, 
October has come and gone….and what a month it's been! We hope you've been able to share some of the journey and fun times with us.
A friendly reminder
E-Card update – The money allocated to your e-card will be announced by the end of this week.
Funding for the previous round expired on Sunday, October 31.
You can top up your e-card by going to our website and logging in to the dashboard – click 'apply for a programme' and fill in the form.
You could also call us on 0800 503 603 or email cpsociety@cpsociety.org.nz to request a top-up.
For more info about the Get Programmes and how to apply click here.
We're here to help – If you're feeling isolated or need help, our team is available to talk. There are also plenty of agencies available to offer support.
Click here for more information, call us on 0800 503 603 or email cpsociety@cpsociety.org.nz.
Covid-19 vaccine information – We don't want Cerebral Palsy, or aspects of the condition, to present barriers for anyone when it comes to them getting the Covid-19 vaccine. Do you have concerns or issues around booking your vaccine, transport, accessibility or communication?
We have put information on our website about accessing the COVID-19 vaccine for members living with CP. Click here for more information.
Please, do not hesitate to contact our team if you would like to discuss how we can assist you further.
Send your queries to cpsociety@cpsociety.org.nz or call us on 0800 503 603.
Baclofen oral liquid medication alert
"The Aotearoa New Zealand standardised batch sheet for baclofen oral suspension will change to a 1 mg/mL concentration from 1 November 2021. This means that for patients taking baclofen oral suspension, the concentration and the amount of medicine they need to take may change. The alert highlights actions for all prescribers, pharmacists and nurses to reduce the risk of inadvertent under- or overdosing with baclofen oral liquid or suspension.
"Baclofen is a muscle-relaxant medication used for severe muscle spasm (spasticity). It is often used in children with cerebral palsy or other conditions that affect the brain or spinal cord."
For more information go to the alert on the Health Quality & Safety Commission website.
Be Green & Be Seen
We celebrated World Cerebral Palsy Day on October 6 by launching Be Green & Be Seen. And what a great green day we had!
So many people shared their photos of dressing green for the day and we really enjoyed checking out everyone's green efforts as the pics came in.
Thank you to everyone who took part – from dressing up for your morning walk, to heading into the office or attending a Zoom call dressed in green and talking about the day, to wearing face paint to add an extra splash of green, decorating your letterbox for passersby to see, and raising money for the Society at the same time. And we held a fabulous green-themed virtual quiz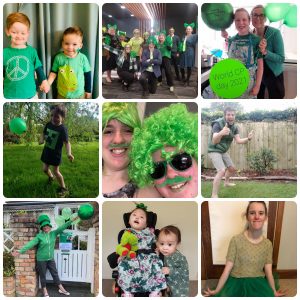 Check out all the Be Green & Be Seen photos here.
The CP Society's 70th Anniversary
We also used October to celebrate the Society's 70th anniversary!
The CP Society's AGM
On October 17 the Society held its Annual General Meeting.
This AGM celebrated two exciting, and successful, "firsts":
The notification and voting process was managed online by external contractors electionz.com
Due to Auckland's Covid-19 Alert Level 3 restrictions the entire meeting was conducted via a Zoom webinar, rather than in-person at our Auckland office.
The involvement of electionz.com, and their digital voting process, was well received by members, and staff alike (who had a lot less admin to manage as a result).
electionz.com were very generous with the charity-rate they charged the Society, which meant this AGM also cost a lot less to run than previous years. Thank you to the electionz.com team for your support in creating a smooth and seamless AGM!
Following the AGM, and the selection of the Board members for the 2021-2022 term, the Officer roles have been agreed. They remain the same as the previous term and are as follows:
Emma Lovett – Chair/President
Renata Kotua – Vice President
Merryn Straker – Board Treasurer
Meg Smith – Secretary
Daniel Clay – Board member
George Hewitt – Board member
Pippa Huddleston – Board member
Katherine Thomas – Board member
Reuben Woods – Board member
You can read about the AGM, including information about the successful board candidates here.
Virtual Quiz – Wednesday Nov 3
Our Virtual Quizzes have been running well and we're now hosting them at 11am on the first Wednesday of every month (except January). We'll be offering a $25 voucher as a spot prize so make sure you join in. RSVP to cpsociety@cpsociety.org.nz and we'll send you all the details. For more information, check out the Virtual Events page on our website.
Stardome Tickets – Auckland members
The CP Society has 10 tickets to the Stardome Observatory and Planetarium in One Tree Hill, Auckland to give to members. The tickets will allow entry for one child or student. Anyone else attending will need to pay full entry fee.
The tickets expire January 8, 2022 and will be given to members on a first-in first-served basis. Please email cpsociety@cpsociety.org.nz to let us know how many tickets you would like sent out, and the courier address to send them to.
CP Society vacancies
The CP Society team is looking to fill two job vacancies. If you, or someone you know, have the skills for either of these roles please send an email to clare@cpsociety.org.nz.
These are both temporary roles with the possibility of becoming permanent.
Office Manager
Reporting to the GM, this is a new position so the opportunity is there for you to make it your own.
Accounts Administrator
You will need to hit the ground running with your AP experience and be a team player willing to help out in other areas.
But wait – there's more to come!
We're in the early stages of redesigning and relaunching The Review magazine!
We're excited about creating the new-look magazine which will feature member stories, research articles, clinical updates and more.
In an effort to reduce our carbon footprint (and Be Green in more ways than one) we will be publishing a digital version of the magazine which will be sent via email to members.
A small number of magazines will be printed for those who don't have email.
Watch this space!
We wanted to use the year of the Society's 70th anniversary to launch a competition!
We're still in the planning stages, but we'll be asking members to create a slogan, or a piece of artwork, with winning entries being printed on to t-shirts and hoodies.
We're expecting to sell the t-shirts and hoodies to members at a significantly reduced price, and they will be available to CP Society supporters as a fundraising tool.
Planning is underway for this competition so keep an eye on your emails and our Facebook and Instagram pages for updates.
Take care, and stay safe.
Ngā mihi,
Clare, and the CP Society team