The Society's Constitution
By joining the Cerebral Palsy Society you agree to be bound by the Society's Constitution. Click here to read/download a copy of the Constitution.
---
The Society's AGM 2020
The AGM will be held at 2pm on Sunday, 18th October 2020 at the Cerebral Palsy Society office at 8 Railway Street, Newmarket, Auckland.
In keeping with the uncertainty caused by Covid-19, the Board has decided, that for agenda items 9 & 10 (Remits & Elections) that:
Only voting by mail or email will be allowed. There will be no voting in person at the meeting. There will be no proxies.
The deadline for voting will be at 4pm on Wednesday 14th October 2020 to allow time for an independent voting validation audit.
An independent validation audit be carried out after the deadline for voting. The results for the election and remit will be placed in a sealed envelope for opening at the appropriate time during the AGM by the Board Chair and announced to the meeting.
Agenda
Welcome
Apologies
Minutes of 2019 AGM
Matters Arising
President's Report
Financial Report
Appointment of Auditor

The Board recommends that RSM Hayes Audit be retained for the 2021/2022 financial year.

Membership Fees

The Board recommends that the fees for the year July 2021 to June 2022 remain unchanged at:
$10 per annum for Individual Membership
$15 per annum for Family Membership
$10 per annum for Associate Membership (Friends of the Society)

Remits for consideration
Election of the officers
 Following the meeting there will be light refreshments.
 The following documents for the 2020 AGM can be downloaded here:
The AGM will be live streamed on the CP Society Facebook page for members who are unable to attend in person.
---
The Society's Board
Merryn Straker – Treasurer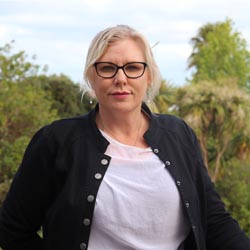 I am the Chief Operating Officer of Straker Translations, a company co-founded with my husband Grant and now listed on the Australian Stock Exchange. Currently also a director for T3W a Maori tech initiative to grow large NZ Maori export businesses. Merryn and Grant have three boys and their middle son Oscar has Ataxic Cerebral Palsy.  
My work life includes growing a large mostly export business in 10 countries but firmly keeping our core roots and head office here in New Zealand. I have strong technical skills and system and process knowledge and have driven our business in the translation of 140 languages across all manner of industries.
I am passionate about the CP Society advocating for change at the governmental level to even up the playing fields for families of non ACC CP kids and adults to enable better access to therapy and equipment.  It doesn't matter if you are on an ACC path or a non ACC path we all have challenges to deal with but we need to work out how to get more meaningful inputs for the non ACC kids and adults to lighten the load on their lives.   
I'm  strong believer in the benefits of intensive therapy  – not necessarily about week in week out – but incorporating short intensives to enable an uptick in function and then to carry on in the home environment in everyday life.   Dr Karen Pape's work and input with Pia Stampe for Oscar was life changing and the mantra 'Habit hides recovery' was proven immensely with our son.   The options available to change the lives of from baby to adulthood is rapidly changing offers greater chances to live a better life with better work opportunities and a chance to participate in a meaningful and enjoyable way in Society.  
It is important the Society has something to offer for all members and all ages and stages but the best way we can do this is to create meaningful governmental change so we change from providing vouchers that are essential to many members to enabling them to access those essentials at a governmental level.  It's not always about get the government to spend more it can be about repurposing how it is currently provided. I look forward to working with the Board on a journey to enact meaningful change – it won't be quick but if we don't start the journey we can't hope to get any success.
---
Meg Smith – Board Member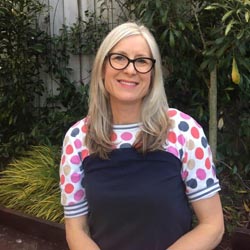 I am mother to Molly who is 10 years old and has cerebral palsy, and Archie who is 8 years old.
I am part of the NZ CP Clinical Network, a quality improvement program that aims to provide clinical leadership in the development and maintenance of a nation-wide clinical service for children and youth who seek services and support for CP care. This work is led by the CPS and the Paediatric Society of NZ and its success is heavily dependent on this close partnership to ensure there is a strong linkage with families, children and adults living with CP. The work includes progressing in areas such as, detection and early intervention, improving transition between youth and adult services, exploring the potential for NZ based SDR surgery and intensive therapy opportunities. I see this work as crucial for improving and progressing the way people with CP are supported in NZ and ultimately with optimising outcomes and quality of life.
I have been a nurse for over 25 years and in the last 15 years I have worked mainly in health management. I have a Masters in Health Management with first class honours. Previously I worked as the Charge Nurse Manager for the Paediatric Orthopaedic service at Starship Children's Hospital where many children with CP came through the service. This allowed me to gain insight into the challenges and barriers that families living with CP face. In my current Clinical Nurse Specialist role, I facilitate a quality improvement program across three hospitals within Waitemata DHB. The program focuses on capturing the patient's experience of care received, which is used as a driver for quality improvements to care delivery.
Like many parents of children with CP, I have dedicated a lot of time and energy into navigating the health and education systems in order to optimise outcomes for my daughter. This, along with my professional experience, has given me a good understanding of systemic structures across government services in NZ for our children living with CP. I have a strong desire to use my skills, knowledge and experience to help make a difference to improving the lives of all people living with CP and to help navigate our society into a strong position of advocacy and leadership in health, wellbeing and inclusion.
---
Reuben Woods – Board Member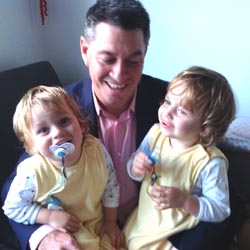 Kia ora koutou, I have been a corporate solicitor for over 20 years working in New Zealand and London, and a partner at global law firm DLA Piper for approx. 10 years.  I have a teenage daughter (Phoebe) and 6 year old identical twin boys (Nico and Quinn), one of whom has CP.  My partner is a medical doctor which helps our whanau to navigate and understand the various treatments and therapies available to Nico and also the inner workings of our public health system.
My work involves advising corporates, private equity investors and others on acquiring companies and businesses, capital raising, restructuring and governance.   I also have governance experience having sat on the board of a not-for-profit regional sports trust for over a decade. I believe that there is great strength and innovation that can be derived from diversity in decision making, and I am heavily involved in my law firm's Diversity & Inclusion programme and chair our ethnic diversity committee.  I am convinced that there is some real talent in our membership that I would to see the CP Society identify and harness, where possible.
The CP Society is an entity of real substance that can make a positive impact on the lives of members and I believe it must be governed professionally, responsibly and transparently. 
I (and my children) proudly whakapapa to Kai Tahu.  I used to be obsessed with surfing but nowadays enjoy spending my spare time with my kids and partner. 
---
Anthony Smith Board Member

I have had the privilege of being on the CP Society Board since 2014 and in that time, have been proud to be part of shifting the Society towards being more strategically focused as well as having an improved operational structure. In addition to my role on the CP Society Board, I have also been a Director for Cerebral Investments Limited (CIL) since its inception in 2015.   CIL is an entity of CPS which is charged with maximizing a portion of the Society's capital fund through growth investments.  Having a daughter with CP I bring a hands-on knowledge of the reality of how cerebral palsy impacts both a person and their family, as well as a valuable perspective on many of the challenges facing the disability sector more broadly. In this capacity, I have been involved in Conductive Education early childhood and school-aged programs, as well as lobbying at a central government level for young people with CP within the education sector. I have also had many years of dealing with ACC and other government agencies. I enjoy seeing those affected by CP making choices for themselves and taking charge of their own lives. Outside of my Board position at CPS, I have a range of business interests and enjoy farming and getting out on the road on my motorbike or going off-road by bike or 4-wheel driving.
---
To contact the Board please email them at board@cpsociety.org.nz