NEWS & UPDATES
The Voices Of Our Children Highlight Their Truth
01 Oct 2019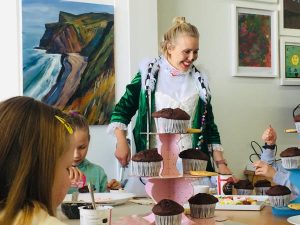 What does a surgeon, vet, horse rider, actor, acrobat and a fairy have in common? They are all the dreams and aspirations of a group of young children who we recently sat down with recently as part of our Children's Voices Event.
The interactive and inclusive event, which we held in our Newmarket office and hosted by television personality and children't presenter Erin Simpson, highlighted their words, truths, insights, goals and dreams as young people living with cerebral palsy.
It was the intention of the Society to open a safe space for conversation so that we could explore how our children feel about living with CP in relation to family life, school, out in the community.
As we were connecting with children and young people around their goals, dreams and aspirations, the theme of this event was Alice in Wonderland, where we encouraged our young people to never stop expressing themselves and to always use their creative imaginations to enhance their lives.
As part of the event, we had creative stations including baking decorating pods, X-Box and movies, crafts and paints, face painting and Go Baby Go Cars outside which was a lot of fun.
CPS Family Support Manager Gemma Overton says she is extremely proud of the event and what it achieved. "We were able to create an interactive, stimulating and safe space for our kids but we were also able to hold honest conversations and interactions with them as well. I am very proud of the children and how honest they all were when speaking to us. I am very grateful for their involvement."
During the interviews we asked the children a range of questions including what their dreams are, what they like about school, how having cerebral palsy impacts their life?