Our Members - Their Stories
Milestones and happiness for the Botha family
31 Aug 2023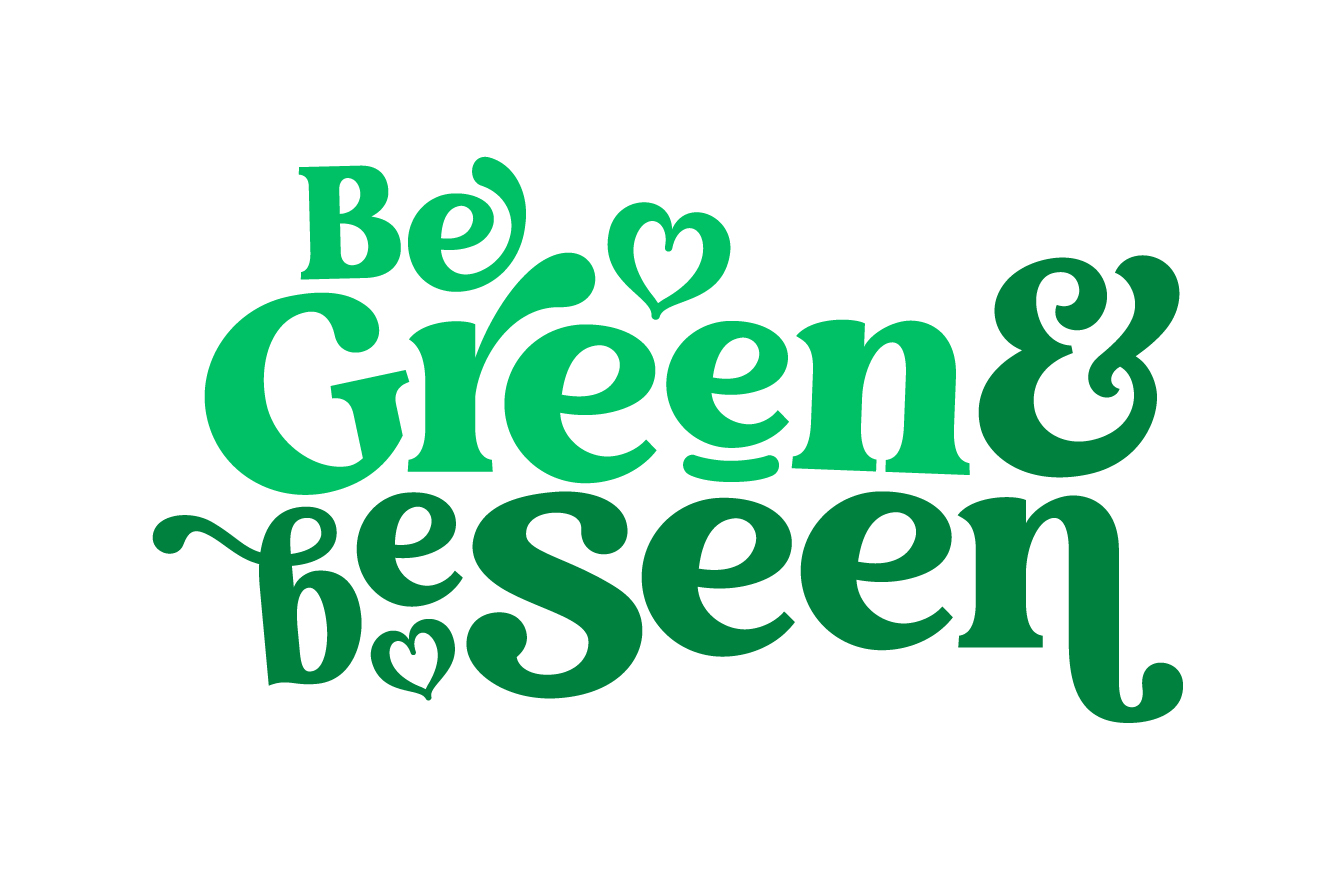 Sijia and Shane Botha aim to

normalise

Cerebral Palsy during Be Green & Be Seen

campaign

.
By Melanie Louden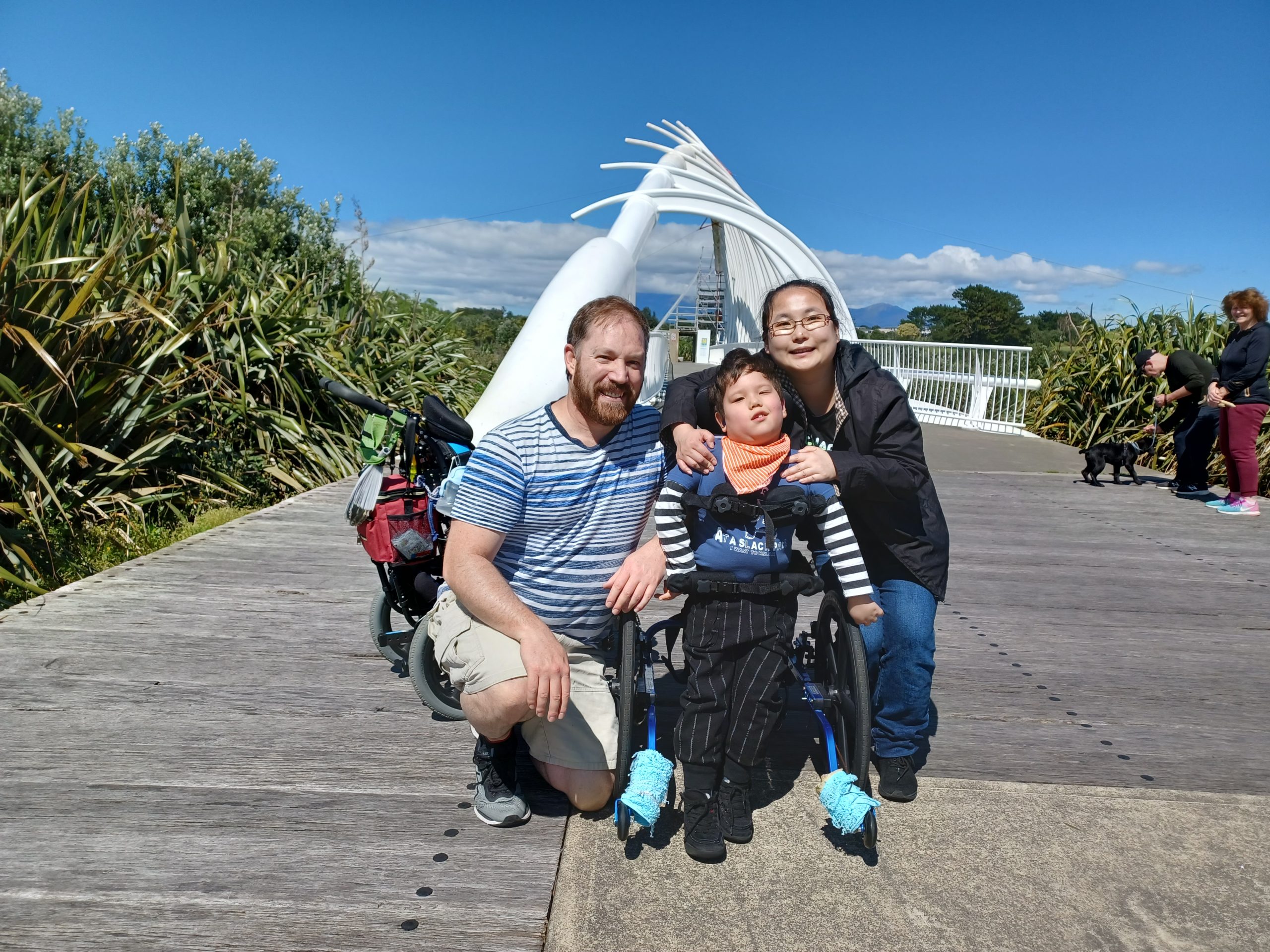 Kevin Botha, with his proud parents Shane and Sijia. 
Every child reaches milestones at different ages and stages.  
Some milestones come quite naturally, others take patience, persistence and determination to achieve.  
Kevin Botha's parents, Sijia and Shane, will tell you that every milestone is worth celebrating.  
For the Auckland couple, the moment their seven-year-old son spelt his name earlier this year was definitely a milestone worthy of celebration. 
"Kevin spelt his name for the first time by selecting the right letters and putting them in the right order," Shane says. "They've been teaching him to do that since he started school, and now he's done it. 
"It's such a small thing, but it's such a massive thing as well."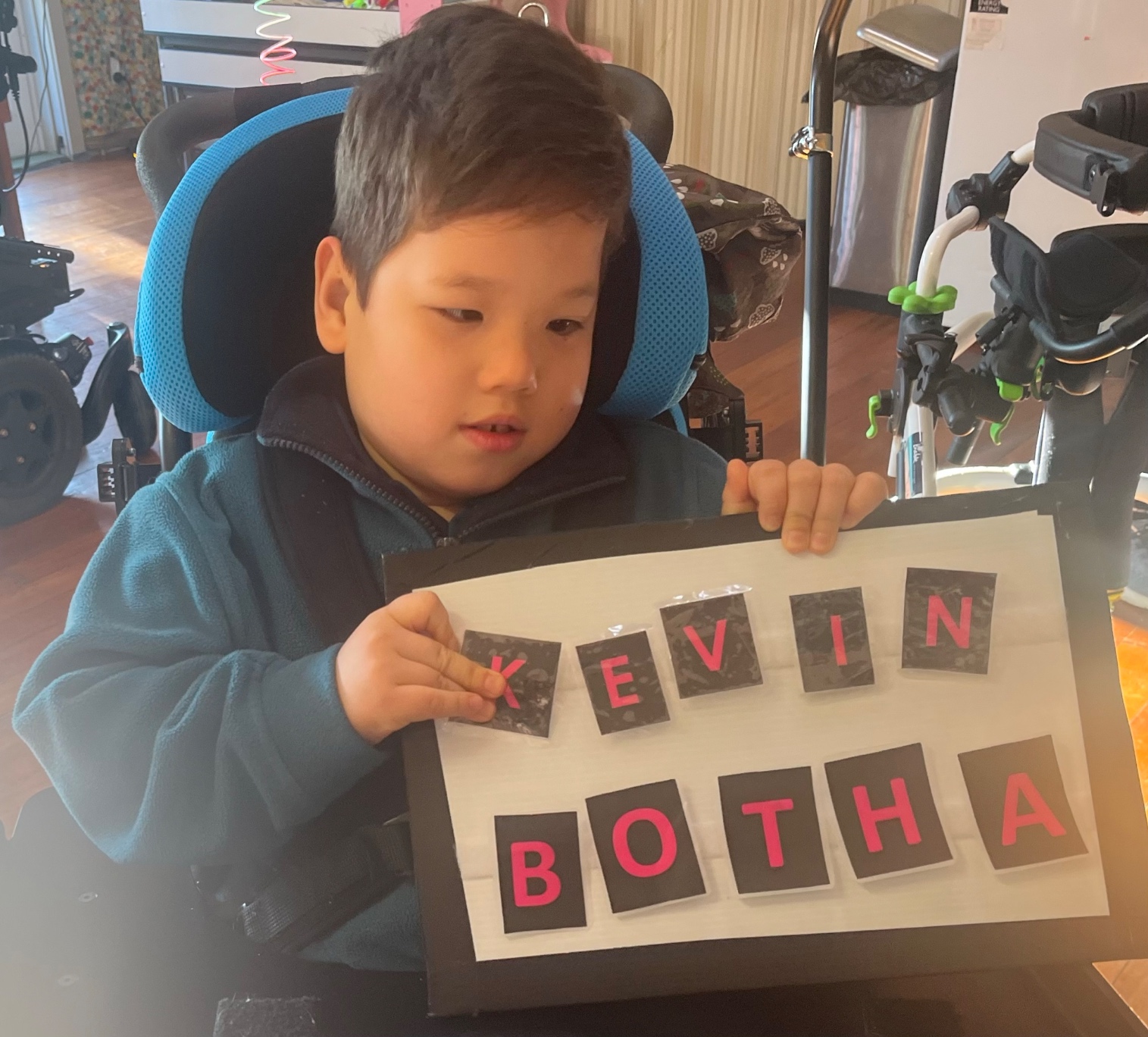 Kevin spelling his name was a massive milestone moment for him, his parents and teachers. 
Kevin, who is hard of hearing and has worn hearing aids since he was six months old, was diagnosed with Cerebral Palsy when he was around eight months old.  
His parents signed him up as a member of the Cerebral Palsy Society soon after.  
They are sharing their story as part of the Society's annual fundraising and awareness campaign, Be Green & Be Seen 2023. The campaign aims to raise funds for the Society's e-card funding programme, and raise awareness about living with Cerebral Palsy.  

Kevin is the face of the 2023 Be Green & Be Seen campaign. 
Kevin's Cerebral Palsy was caused by a hypoxic brain injury at birth (when a baby's brain does not get enough oxygen before or shortly after birth). 
"He was purple when he was born," Sijia says. 
"He'd been without oxygen for too long," Shane says. "They had to resuscitate him shortly after he was born. That's where he was injured. 
"There's this mix of emotions…. He came out completely flat and you were scared he was going to die. And then they managed to resuscitate him and it's a bit of relief. But then there's that worry in the back of your mind….."  
Kevin was in the Neonatal Intensive Care Unit (NICU) for a couple of days and "rebounded quite quickly". 
"I actually thought he would be alright," Sijia says. "You often hear about birth trauma but then the children grow up fine. So, I thought he was just one of those kids who had a bit of trauma but he's ok, because he actually came back from NICU after two days, so I was still kind of expecting a normal baby."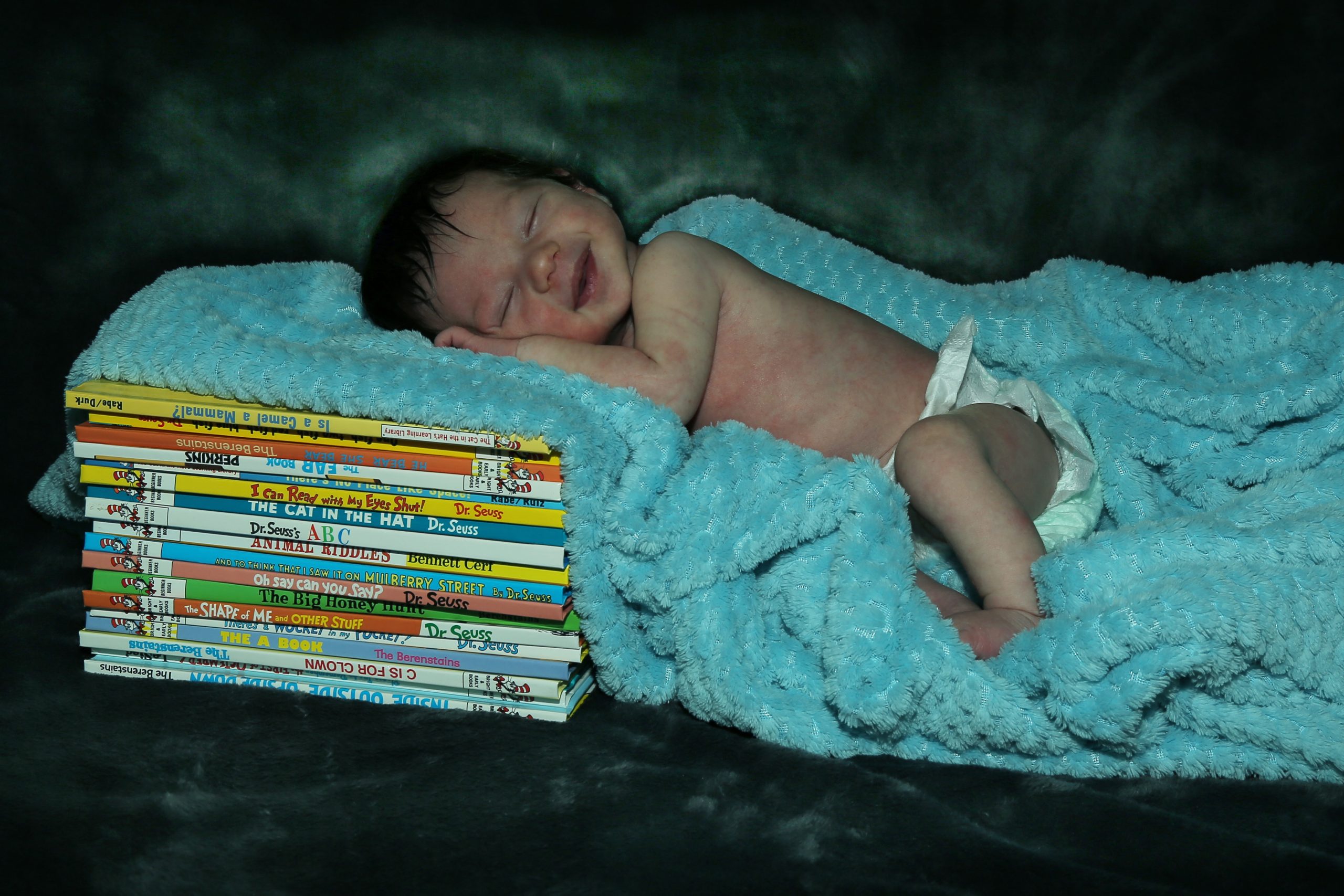 A cute wee smile from baby Kevin.
But as the weeks and months went by the first-time parents became concerned. Kevin wasn't feeding well – he'd arch his back, choke, his eyes would roll back, and he was consistently underweight. 
A Plunket nurse raised concerns and suggested they head to their GP, recalls Sijia. The Cerebral Palsy diagnosis was made not long after that. 
Sijia, from China, and Shane, from Zimbabwe, then began to navigate life with an infant who had a disability – and navigate the health system. 
When Kevin was 2.5 years old, Sijia and her parents took him to China to take part in a three-month rehabilitation programme, which among other things allowed him to start eating mashed foods.  
Nine months later they returned to China for another year for more of the same kind of therapy. Both trips were self-funded. 
"We could see that it was giving him a lot," Shane says. "He became a lot stronger, and it formed the basis for us to do a lot more therapy with him." 
Kevin's Cerebral Palsy is classified as GMFCS (Gross Motor Function Scale) level 4, which means he can walk short distances on a walker, and relies more on wheeled mobility at home, school, and in the community. 
He is non-verbal – he makes sounds but doesn't articulate himself using words. Instead, Kevin uses a communication book, a tablet and New Zealand Sign Language.  
"He's starting to learn some good patterns, and to construct sentences. It gives him a voice," Shane says. 
Kevin uses a communication book to share his thoughts with his dad Shane.
Kevin uses a wheelchair, powerchair, walker and a standing frame, and is a student with Central Auckland Special School, attending satellite classes at Oranga Primary. He loves going to school and attends some mainstream classes.  
"You drop him off in the morning and he gives you a wave and that's it, you've got to go now," says Shane. 
Kevin is known for being a super sociable child who adapts to new people and situations quickly, and for his great sense of humour. 
"Anything that's out of the ordinary, dad tripping or falling, getting a finger stuck in something, he thinks is hilarious," Shane says. "Same with anything stinky….. typical boy." 
Kevin's determination is also a strong trait.  
"When he starts trying something he'll keep trying until he gets it. He's not put down by failure," Shane says.  
Shane and Sijia say that having the Cerebral Palsy Society by their side has been invaluable – from the funding opportunities via the e-card programme, to the Member Support team being at the end of the phone to give advice.  
"They are a big help," Sijia says. "I really appreciate them." 
"We're not as isolated as we would be otherwise," Shane says. "….Just having the Society there to talk to is invaluable." 

There are plenty of smiles in the Botha family. 
Shane and Sijia hope Be Green & Be Seen will help normalise Cerebral Palsy.  
"I'm pretty open about my child having a disability," Shane says. "I'm very vocal about explaining what it is and trying to normalise it with the people around us. 
The couple agree that raising a child with a disability is hard, "but it's incredibly rewarding". 
"He's still a child and he's still a person," Shane says. "The things that really matter are all there. There's still the love, and the affection, and emotions, and the joy of watching a child grow.  
"We want people to see a happy child that might be different, but he's still happy.  
"I think that's one thing that we missed initially when our son was very little…you've got so much unknown and you're so worried about the future that it's easy to lose sight.  
"There is a lot of good that's happening, there's a lot of happiness." 
<END> 
Be Green & Be Seen is the Cerebral Palsy Society of NZ's annual awareness and fundraising campaign. You can find out all about the campaign here.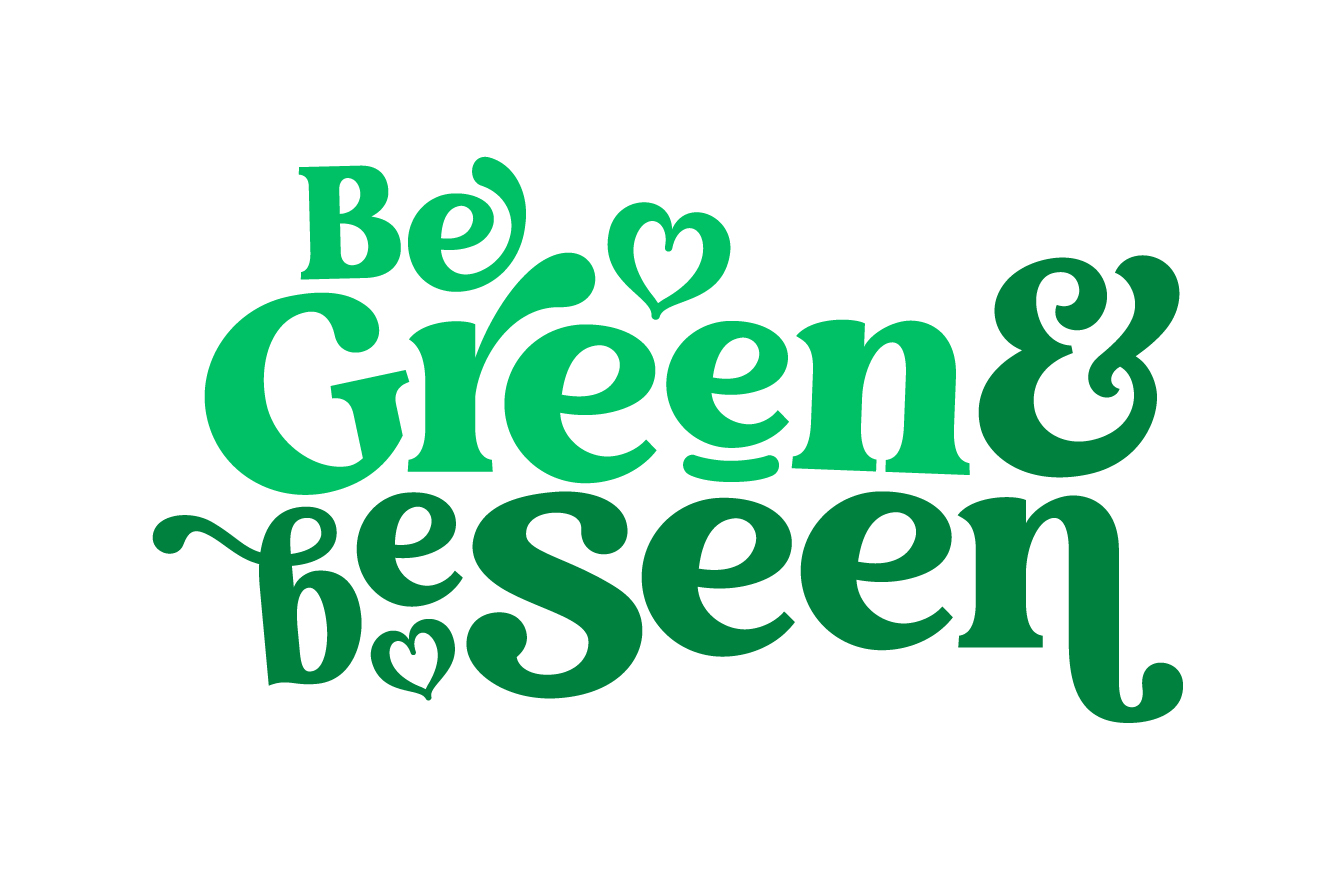 Make a Be Green & Be Seen donation on our Givealittle page today
OR
#beACTIVE with us  
For more information: 
Melanie Louden 
Communications Manager 
melanie@cpsociety.org.nz  
Mobile: 022 087 8191