NEWS & UPDATES
get On Your Trike! James' Story
21 May 2021
Recently, the Cerebral Palsy Society of New Zealand's getOnYourTrike programme helped young James to do just that! This is James' story, as told by his Mum:
We had been looking for a suitable trike for James and contacted the CP Society after a suggestion from one of his therapists. Things moved quickly from our first contact and, as James was scheduled for a trip to Starship in the near future, we planned to get him fitted for a trike on our flying visit to Auckland.
Michael went above and beyond our expectations when he arranged to visit James on the ward and fit him for his trike. The application process and forms were quickly completed and we were able to take the trike back with us to Taranaki that afternoon.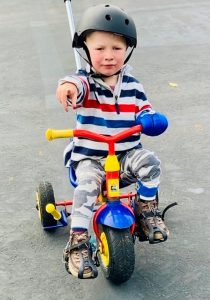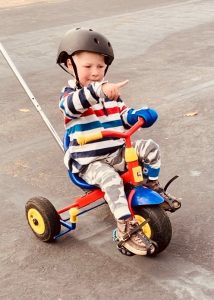 James is loving the extra mobility his new trike allows, and is using it daily around the garden and at pre-school. He loves it when the other children help him steer round the bike course. We can see his strength and proficiency steadily increasing, and most importantly he's having fun.
The CP Society has been extremely helpful, encouraging and responsive. It was only a couple of weeks from our first tentative enquiry until James received his trike, and we couldn't have had better support.
A heartfelt "Thank You" from James and his family!
Please click here to watch a video of James riding his trike.
If you would like to learn more about our getOnYourTrike programme, please click here.
If you would like to share your own testimonial, please contact us at cpsociety@cpsociety.org.nz.