NEWS & UPDATES
October – a month of celebrations
01 Oct 2021
Welcome to October – the year certainly is flying by, despite the trials and difficulties of living life in this Covid-19 era. Unfortunately Covid-19 risks has made planning for "in-person" events impossible.
But today, we're here with some bright and exciting news.
October 2021 is a particularly special time in the life of the Cerebral Palsy Society of NZ. October 6 is World Cerebral Palsy Day, October 17 is our AGM, and we're also celebrating the Cerebral Palsy Society's 70th Anniversary.
There's a lot happening this month so here's a rundown: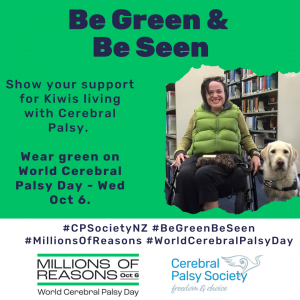 Wednesday October 6 is World Cerebral Palsy Day and there are a number of ways you can celebrate:

Be Green & Be Seen

! The Cerebral Palsy Society is calling on members to be as green as they can be for World Cerebral Palsy Day. That might mean dressing in green for the day, doing some green home baking, decorating your letterbox with green balloons and this poster, or doing some green-themed art and craft with the kids or grandkids. Click here for all the details.
Why not take part in our

green

-themed virtual quiz which is being held at 11am on World Cerebral Palsy Day? RSVP to cpsociety@cpsociety.org.nz and we'll send you all the details.
World Cerebral Palsy Day is all about people around the world coming together to celebrate and support those living with CP, embrace diversity and to help create a more accessible future for everyone. As cerebral palsy affects more than 17 million people worldwide, there are millions of reasons to make your voice heard on October 6. Join the movement this World Cerebral Palsy Day to help create awareness and action around cerebral palsy, because every person living with cerebral palsy is a reason to strive for change.
Sunday October 17 is our Annual General Meeting and all the AGM documents are on our website.

Voting for members of the Cerebral Palsy Society Board close on Friday October 15. Voting papers were sent via email and mail to current financial members of the Society by electionz.com on September 24, 2021. If you have any queries about the voting process or have not received your voting info pack please contact electionz.com directly – iro@electionz.com or call the freephone help line on 0800 666 937. Please note, the email will be from electionz.com directly, not from the cpsociety email address.
Please RSVP / send apologies for the AGM itself to clare@cpsociety.org.nz. If you have any queries, please contact the office on 0800 503 603 or email Clare on clare@cpsociety.org.nz.
Our 70th Anniversary is being celebrated throughout the month of October.
Our 

Virtual Events

are continuing throughout October. Keep an eye on

Facebook,

 

Instagram

 and our website for all the details. 

 

Our 

Chalk Art Competition 

kicks off on Friday October 1. Get handy with the chalk on your driveway or footpath and email photos of your entry to 

cpsociety@cpsociety.org.nz

 by October 15.

 

Our 

Wacky Hair Competition

 starts on October 15. It's time to get creative with your hair – think hair chalk, gel, bows and ribbons….. Take a photo and email your entry to 

cpsociety@cpsociety.org.nz

 by October 15.

 

There will be 

PRIZES 

so get creative and send us your entries.

 

 Here's to a fabulous October. 
 Ngā mihi,  
Clare and the CPS Team