NEWS & UPDATES
Christmas and New Year shut down – 2021-2022
30 Nov 2021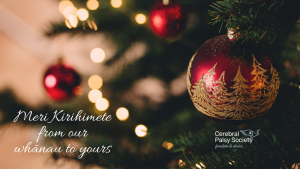 Meri Kirihimete (Merry Christmas) and Happy New Year to all our members, their whānau, our friends and supporters.
Our hours over the Christmas-New Year shutdown period mean the Society will be closed from the afternoon of Thursday, December 23, 2021.
If you have any membership enquiries, or queries about your get Programme e-card, please send us an email or call the Society on 0800 503 603 before we close for the year. 
Staff will gradually return to work from Monday, January 10, 2022. 
All enquiries that come in while we are on leave will be actioned once we are back at work. 
If you have an emergency during this time, please call 111.
If you have COVID-19 symptoms, call the dedicated COVID-19 Healthline on 0800 358 5453.
For any other health concerns, call the general Healthline number on 0800 611 116. You can call 24 hours a day, seven days a week.
The Cerebral Palsy Society board and staff wish you all a happy and safe summer holiday.