NEWS & UPDATES
e-Card update – current round of funding expires on Oct 31
15 Oct 2021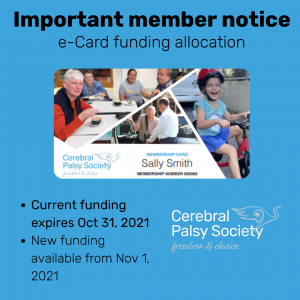 Money allocated to your member-only e-card for the current round of Get Programme funding expires on Sunday October 31.
Members have until that date to spend the money currently on their card.
The new Cerebral Palsy Society Board will be determining the value of the new allocation for the period November 1, 2021 to February 28, 2022 at their first board meeting on October 22. We will send you an email to let you know the outcome.
There are two ways to top up your e-card:
– Log in to your "Dashboard" (top of page) and click 'apply for a programme' and fill in the form.
– Or email cpsociety@cpsociety.org.nz to request a top-up.
This funding will be available from November 1.
Click here for more info about the Get Programmes and how to apply.