NEWS & UPDATES
OPEN DAY The New Zealand Stage Combat School
26 Apr 2019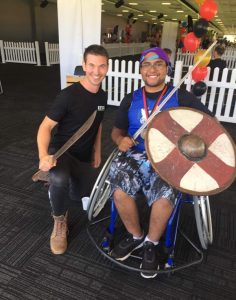 A new exiting course starting Sunday 28th, "Stage Combat for the Special needs"  is a course specifically tailored for improving motor skills, confidence and general physical health. The best thing is you don't even realise your working out.
Your first Sunday special needs class is FREE, so join us on the grand opening this coming Sunday (28th)  for a BBQ, archery, axe throwing and more! Yes, it's all free!!
Stage Combat for the Special needs 
When? Sundays 1:30-3pm
Where? 61 e Hugo Johnson drive (the dust palace)
How much does it cost? $200 for a whole term ($13 an hour) 
The NZSCS has also been accepted as an approved business by the Cerebral Palsy Society. What does this mean? It means you can use the vouchers you receive from CPS  to pay for the classes.
Contact: Alexander@thenewzealandstagecombatschool.com or phone 022 172-9964  
RECENT NEWS
RECENT UPDATES