NEWS & UPDATES
Free Auckland "Wind in the Willows" Tickets
13 Jun 2019
We have a number of free tickets to the Auckland Southern Stars show – Wind in the Willows.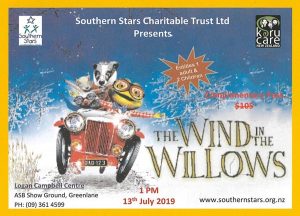 The show details are:
Date – 13th July
Location – Logan Campbell Centre (Auckland)
Times – 10am, 1 pm and 4pm.
Each ticket admits 1 adult and 2 children.
The show is schedule to last for approximately 90 minutes with a 15 minute interval
We have:
17 tickets for the 10am show
20 tickets for the 1pm show
17 tickets for the 4pm show
If any member would like tickets please email Jacqui at jacqui@cpsociety.org.nz AS SOON AS POSSIBLE to ensure that we can post them out to you in time.
RECENT NEWS
RECENT UPDATES