ATSNZ Disability Expo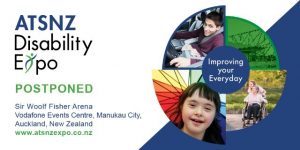 Described as the disability's services event of the year, the ATSNZ Disability Expo is New Zealand's foremost exhibition of aids, equipment & allied services. On display will be the latest in aids, equipment and assistive technology, as well as options for mobility, services and lifestyles. The exhibition is a unique opportunity for clinical specialists  to touch, learn and interact with the latest technology from a wide range of disability equipment providers and meet with suppliers. The event is open to all allied health professionals as well as visitors of all ages, including those with a disability, seniors and their families, friends and carers.
The Cerebral Palsy Society of New Zealand will be there, exhibiting alongside the Wilson Home Trust.  
Dates & Times:
8:30 a.m. until 4:00 p.m. Tuesday, the 6th of July 2021.  
8:30 a.m. until 3:00 p.m. Wednesday, the  7th of July 2021.  
Location: Sir Woolf Fisher Arena, Vodafone Events Centre, Manukau, Auckland, New Zealand.
Cost: Admission to the expo is FREE. Please help the expo fulfil their Covid-19 requirements by registering in advance. Those who register in advance can:
Reserve a space at the seminar sessions that take place throughout each day of the show.
Get FREE parking.
Get FREE coffee 
Please click here to go to the official website of the ATSNZ Disability Expo and register.
Details
6 July 2021 - 7 July 2021
6 July 2021 8:30 - 16:00
7 July 2021 8:30 - 15:00
Sir Woolf Fisher Arena, Vodafone Events Centre, Auckland
New Zealand